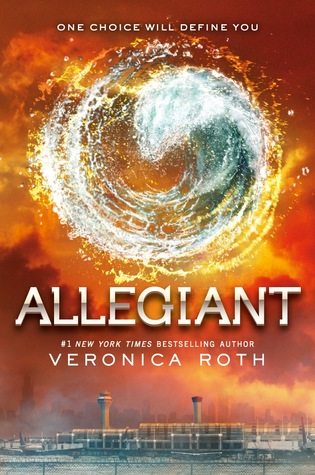 Title:
Allegiant
Author:
Veronica Roth
Publisher:
Katherine Tegen Books
Publication date:
October 22, 2013
Pages:
526
Source/format:
Purchased // Hardcover
Rating:
☆☆☆
☆
Synopsis (from goodreads.com):

The faction-based society that Tris Prior once believed in is shattered - fractured by violence and power struggles and scarred by loss and betrayal. So when offered a chance to explore the world past the limits she's known, Tris is ready. Perhaps beyond the fence, she and Tobias will find a simple new life together, free from complicated lies, tangled loyalties, and painful memories.

But Tris's new reality is even more alarming than the one she left behind. Old discoveries are quickly rendered meaningliess. Explosive new truths change the hearts of those she loves. And once again, Tris must battle to comprehend to complexities of human nature - and of herself - while facing impossible choices about courage, allegiance, sacrifice, and love.

Told from a riveting dual perspective, ALLEGIANT, by #1 New York Times best-selling author Veronica Roth, brings the DIVERGENT series to a powerful conclusion while revealing the secrets of the dystopian world that has captivated millions of readers in DIVERGENT and INSURGENT.
M Y T H O U G H T S
I am planning to see the Allegiant film adaptation on March 26th and wanted to refresh my memory of what happened in the book. The last time I read the book was when the book was first released. Of course there are mixed reviews about
Allegiant
. I am one of the few that actually thought the ending was necessary. It's not the best ending in the world but it was a bold and important decision that Veronica Roth had to make.
Although I enjoyed re-reading
Allegiant
, I found the bickering between Tris and Tobias to be excessive. It could be because of the genetic results that causes this friction but it was a little bit tiresome to read. The casualties in this book are shocking and the discoveries that Tris and Tobias make in this novel are definitely overwhelming since so much goes on.
There were times when I was confused whose POV I was reading but I actually enjoyed the pacing of this novel. Although this installment is slower in pace and there aren't that many action scenes, Roth sucked me into the book and I read a huge portion of it in one day during my re-read. This is the novel that makes you think more about what is going on in the society. How do all three books link up? What does history teach us? Roth delves into what it means to be Divergent. It's important to understand what divergence means and how it affects society.
Also, readers get to know a little more about Tobias's background which helps the reader understand why Tobias thinks the way he does. Of course if your have a chance to read
Four
, readers get a better sense of his view about things. In
Allegiant
, his POV could have been improved.
Overall, I enjoyed reading the last book in the
Divergent series
. I am interested to see how much of
Allegiant
will be in the film adaptation of the same name in part one and in part two, also known as Ascendant. I hope there aren't too many changes in the film. I was highly disappointed with the Insurgent film adaption and I am a little nervous to see Allegiant.