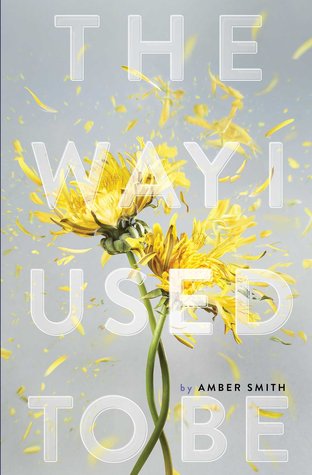 Title:
The Way I Used to Be
Author:
Amber Smith
Publisher:
Margaret K. McElderry Books
Publication date:
March 22, 2016
Pages:
384
Source/format:
ARC from Publisher
Rating:
☆☆☆
1/2
Synopsis (from goodreads.com):

In the tradition of Speak, this extraordinary debut novel shares the unforgettable story of a young woman as she struggles to find strength in the aftermath of an assault.

Eden was always good at being good. Starting high school didn't change who she was. But the night her brother's best friend rapes her, Eden's world capsizes.

What was once simple, is now complex. What Eden once loved—who she once loved—she now hates. What she thought she knew to be true, is now lies. Nothing makes sense anymore, and she knows she's supposed to tell someone what happened but she can't. So she buries it instead. And she buries the way she used to be.

Told in four parts—freshman, sophomore, junior, and senior year—this provocative debut reveals the deep cuts of trauma. But it also demonstrates one young woman's strength as she navigates the disappointment and unbearable pains of adolescence, of first love and first heartbreak, of friendships broken and rebuilt, and while learning to embrace a power of survival she never knew she had hidden within her heart.
M Y T H O U G H T S
Eden McCrorey has been hiding a secret from everyone she knows. Her brother's friend, Kevin, raped her during her freshman year but she doesn't think anyone will believe her because Kevin is treated as part of the family. Eden feels alone. She can't tell her family or her friends what happened. She is unpopular at school and she ends up forming the Lunch-Break Book Club to avoid the cafeteria at lunchtime.
Amber Smith's debut novel is powerful! Rape is a subject that can be touchy to talk about in general. Smith writes about an important and heavy topic in a way the reader will understand what Eden is going through. When I heard how
The Way I Used to Be
is similar to
Speak
, I had to pick this novel up. She does not sugarcoat anything from sex to drugs to alcohol. She tells it how it is.
Smith writes about Eden's journey over a span of four years of high school. The emotions and pain doesn't go away. It lingers with her forever. As each year progresses, she seems more irritable. She transforms from goody two shoe to a young lady who lives a life that down spirals; Her life is dangerous and destructive. She fills this void of being violated with things she can control such as having sex with random guys, doing drugs and drinking alcohol.
Eden became annoying after awhile and would always not listen to others. She would tell people to shut up when everyone is trying to check up on her. I had mix feelings about how she treated people. I mean I understand that no one knows what she went through but she became overly bitchy as the book progresses. Eden shuts out everyone that cares for her from a love interest to her best friend. There are a few times I seriously wanted to slap her.
Rape happens even though people don't know about. The reason why people don't know about, is because rape victims often don't tell anyone about what happens. They feel conflicted, confined and confused. When you think you are safe, you are not. Home is deemed the safest place but in reality a lot of instances of sexual assault and domestic violence occur with people you know.
If you're looking for a book in the vein of
Speak
by Laurie Halse Anderson and
Firsts
by Laurie Elizabeth Flynn, definitely check out
The Way I Used to Be
. This is a good read for April's Sexual Assault Awareness month.