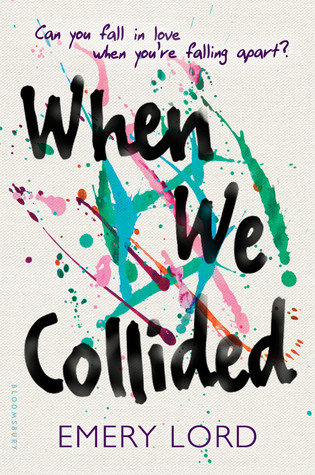 Title:
When We Collided
Author:
Emery Lord
Publisher:
Bloomsbury USA Childrens
Publication date:
April 5, 2016
Pages:
352
Source/format:
ARC from publisher
Rating:
☆☆☆
☆
☆
Synopsis (from goodreads.com):

Meet Vivi and Jonah: A girl and a boy whose love has the power save or destroy them.

Vivi and Jonah couldn't be more different. Vivi craves anything joyful or beautiful that life can offer. Jonah has been burdened by responsibility for his family ever since his father died. As summer begins, Jonah resigns himself to another season of getting by. Then Vivi arrives, and suddenly life seems brighter and better. Jonah is the perfect project for Vivi, and things finally feel right for Jonah. Their love is the answer to everything. But soon Vivi's zest for life falters, as her adventurousness becomes true danger-seeking. Jonah tries to keep her safe, but there's something important Vivi hasn't told him.
M Y T H O U G H T S
Vivi fell in love with Verona Cove when she moved there for the summer. She wasn't looking for love but love found her anyway. Verona Cove is a small beach town in California and with about 3,000 residents. Because Jonah promised little Leah she can paint pottery if she did all of her chores, the two end up at Fired Up. It so happens that Vivi works there over the summer. And this is where the story starts!
When We Collided
is honest and poetic. Emery Lord has a gift for capturing moments in a snapshot. Her descriptions are beautifully written and the imagery is strong. Life isn't perfect and Vivi and Jonah are able to complete each other despite their flaws. The slow build up from stranger to friend is remarkable. Vivi is vivid and so full of life. She is adventurous, humorous and free-spirited. Jonah is responsible and reserved. After all, he is one of the caretakers for his younger siblings. Vivi falls in love with the Daniels family but is smitten with Jonah.
I enjoyed reading the dual POV novel. Lord writes the POVs wonderfully. I love how she transitions the dialogue so we see both Vivi's and Jonah's POVs. The way Lord tackles family dynamics is fantastic. Jonah comes from a family of five siblings. But his father passed six months ago and his Mom hasn't been the same after the death. The older children have to step up in terms of responsibilities in order to support the family whether it be working or babysitting the younger siblings. Vivi is an only child and lives with her artist mother. Jonah's POV is my favorite. Lord writes his voice perfectly.
There is so much emotion and grit in this novel. The ending made me cry; it's a bittersweet ending. Lord has touched upon bipolar disorder in a way where everyone can understand.
When We Collided
is not a mental illness novel. It's a coming-of-age novel about finding who you are and how you can still persist even though you have some struggles and difficulties in your life. When life is tough, you keep moving forward.
When We Collided
is a
MUST
read! It's heartfelt and it's almost impossible not to fall in love with Vivi, Jonah and Jonah's family. The characters are real with flaws and all. If you're looking for a YA contemporary dealing with loss, friendship, love, acceptance, finding yourself and mental illness,
When We Collided
is the book to pick up!
Vivi was here!
Collide by Howie Day pairs well with When We Collided.