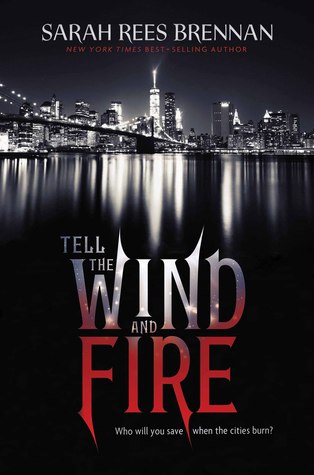 Title:
Tell the Wind and Fire
Author:
Sarah Rees Brennan
Publisher:
Clarion Books
Publication date:
April 5, 2016
Pages:
368
Source/format:
ARC from publisher
Rating:
☆☆☆
Synopsis (from goodreads.com):

In a city divided between opulent luxury in the Light and fierce privations in the Dark, a determined young woman survives by guarding her secrets.

Lucie Manette was born in the Dark half of the city, but careful manipulations won her a home in the Light, celebrity status, and a rich, loving boyfriend. Now she just wants to keep her head down, but her boyfriend has a dark secret of his own—one involving an apparent stranger who is destitute and despised. Lucie alone knows the young men's deadly connection, and even as the knowledge leads her to make a grave mistake, she can trust no one with the truth.

Blood and secrets alike spill out when revolution erupts. With both halves of the city burning, and mercy nowhere to be found, can Lucie save either boy—or herself?
M Y T H O U G H T S
Sarah Rees Brennan writes a story that is loosely based on
A Tale of Two Cities
in modern day New York City instead of the 1700's before and after the French Revolution. There are two cities, Light and Dark. Without Dark there cannot be Light but in this world, Dark is looked down upon. The Light depend on the Dark for their survival, especially for those who are Light magicians and use too much magic. The Dark are patrolled by Light guards but away from the Lights. Lucie Manette is known as Gold Thread in the Dark after she saved her father's life. Her boyfriend Ethan Stryker hides a dark secret that know one knows until now. This secret can destroy everything the Stryker family has.
When I first heard about this novel, I was super excited to read it since it a retelling of A
Tale of Two Cities
but with paranormal forces and magic. However, I was slightly disappointed with the execution of the book. The word building is not as strong as it could be and I wish there was more information about how the magic system works with Light and Dark magicians. I want to know the breakdown of each city. I do not mind the long monologues Lucie has in the book. It is crucial to understand some backstory of the characters. Also, the first person narrative was fine since it was easy to follow the plot.
However, I noticed that Lucie starts defending another guy named Carwyn despite Ethan being her boyfriend. She spends more time defending this stranger and makes so many mistakes that has huge consequences. Lucie may have good intentions but she didn't have common sense half the time. She doesn't think before she acts. It was frustrating to read about Lucie's mistakes over and over again. Ethan had a flat personality and I wish he had more pep in his step. Carwyn is overly sarcastic and is easily predictable in his actions.
This retelling reminds me of the Hunger Games series. Just like with Katniss, Lucie hope to the people. Although she does not want to partake in the rebellion, she is the hope that the people needs. Because Lucie is a Light magician born in the Dark city and she stood up for her father, she is seen differently in the eyes of the Light magicians compared to the Dark magicians. She is used as a pawn in both Light and Dark cities. I feel for her. She is put in this awkward situation where she doesn't know what to do. The political struggle is real and is a constant reminder that not only one side can be corrupt. Don't forget that without darkness, there will be no light.
Despite a few concerns I had with
Tell the Wind and Fire
, I find the book well written and intriguing. I read the book in about three sittings over a few days. If you are looking for a fast paranormal dystopian read, check out
Tell the Wind and Fire
.