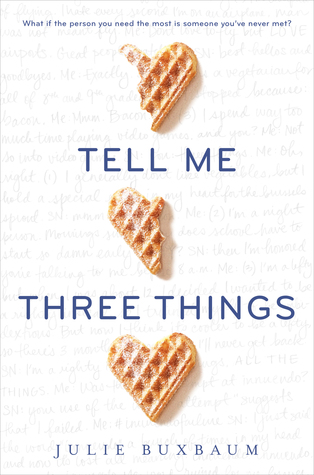 Title:
Tell Me Three Things
Author:
Julie Buxbaum
Publisher:
Delacorte Press
Publication date:
April 5, 2016
Pages:
336
Source/format:
ARC from publisher
Rating:
☆☆☆
☆
☆
Synopsis (from goodreads.com):

What if the person you need the most is someone you've never met?

Everything about Jessie is wrong. At least, that's what it feels like during her first week of junior year at her new ultra-intimidating prep school in Los Angeles. Just when she's thinking about hightailing it back to Chicago, she gets an email from a person calling themselves Somebody/Nobody (SN for short), offering to help her navigate the wilds of Wood Valley High School. Is it an elaborate hoax? Or can she rely on SN for some much-needed help?

It's been barely two years since her mother's death, and because her father eloped with a woman he met online, Jessie has been forced to move across the country to live with her stepmonster and her pretentious teenage son.

In a leap of faith—or an act of complete desperation—Jessie begins to rely on SN, and SN quickly becomes her lifeline and closest ally. Jessie can't help wanting to meet SN in person. But are some mysteries better left unsolved?
M Y T H O U G H T S
Jessie Holmes is starting her junior year of high school after moving to Los Angeles from Chicago. Her mom has passed and her dad eloped with a woman who has a son also in the same grade as Jessie. Seven days after starting Wood Valley High School, someone with the name Somebody Nobody e-mails Jessie. From that day on, Somebody Nobody has become a good friend. However, who is this mystery person? Who is SN?
Julie Buxbaum writes an honest story. Jessie doesn't fit in with the rich kids at the elite private school she attends. No one is there for Jessie except her new friends Adrianna (Dri) and Agnes. Even SN tries to help her navigate the Wood Valley High School. But who is SN? Caleb, Liam, Ethan or some other guy that knows her?
Buxbaum showcases healthy female relationships. Jessie's best friend from Chicago, Scarlett, still keeps in touch and they have a strong friendship despite the distance between them. Dri and Agnes are always there for Jessie. Buxbaum tackles a variety of tough topics such as transferring schools, making new friends, bullying, safe sex, parents remarrying and even touches upon socioeconomic upbringings.
The adults in the novel are in their own world and do not even consider that Jessie is going through a tough time. All they claim is that they are trying to understand. However, as the novel progresses, Jessie and her dad finally have a conversation at the end of novel which I thought was important for both of them to express their feelings of the transition. Mrs. Pollack, Jessie's English teacher, also has a conversation about fitting in which I think is crucial.
I love the formatting of
Tell Me Three Things
. Buxbaum includes Jessie writing in first person. Readers also get to read the text exchanges between Jessie and Scarlett as well as the e-mails and IMs she sends and receives from Somebody Nobody. The way Buxbaum weaves in a subtle mystery within a contemporary is brilliant. It works so well in the novel.
If you are looking for a cute, heartfelt contemporary in the vein of
The Start of Me and You
by Emery Lord, definitely pick up
Tell Me Three Things
. This novel is definitely one of my favorite reads of the year so far.