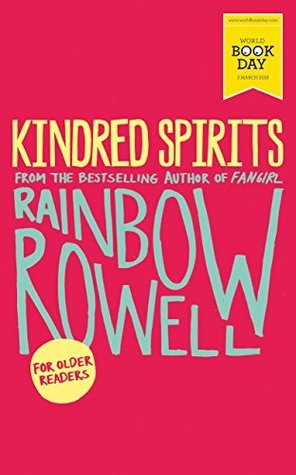 Title:
Kindred Spirits
Author:
Rainbow Rowell
Publisher:
Macmillans Kids UK
Publication date:
February 25, 2016
Pages:
96
Source/format:
Purchased // Paperback
Rating:
☆☆☆
☆
1/2
Synopsis (from goodreads.com):

'Everybody likes everything these days. The whole world is a nerd.'
'Are you mad because other people like Star Wars? Are you mad because people like me like Star Wars?'
'Maybe.'

If you broke Elena's heart, Star Wars would spill out. So when she decides to queue outside her local cinema to see the new movie, she's expecting a celebration with crowds of people who love Han, Luke and Leia just as much as she does. What she's not expecting is to be last in a line of only three people; to have to pee into a collectible Star Wars soda cup behind a dumpster or to meet that unlikely someone who just might truly understand the way she feels. Kindred Spirits is an engaging short story by Rainbow Rowell, author of the bestselling Eleanor & Park, Fangirl and Carry On, and is part of a handful of selected short reads specially produced for World Book Day.

M Y T H O U G H T S
This short story by Rainbow Rowell is magical! Rowell is an auto-buy author for me and of course I had to pre-order this beauty! Elena is third in line waiting in anticipation for the upcoming Star Wars movie, Episode VII: The Force Awakens. She ends up befriending Troy and Gabe. The weather is mild but mild in terms of December. With a pom pom hat, a sleeping bag and some Star Wars books, Elena is determined to stick it out for the four days camping outside the movie theater.
I related with Elena. Although I am not a big Star Wars fan, I can understand the excitement waiting in anticipation for the next movie or book of a well loved fandom. For me, that fandom is Harry Potter. Although I did not camp out for four days to see a Star Wars movie, I definitely camped out hours prior to midnight releases.
There is something special one experiences in a fandom waiting line. The people you meet are all in line for the same fandom you absolute love! Rowell writes characters that are real. They aren't perfect but that's why I like them. Gabe may be that geeky guy that sits in the back of Spanish class but so what? Despite each other's differences, people can appreciate the same love for a fandom. It's like a second family. A fandom unites people together. I don't feel out of place when I am hanging around Potterheads. The same is true for fans of other fandoms.
When Elena jokes around how she gets mistaken as a 12-year-old, I can totally relate to that. I am petite standing at 5'2" and I am constantly mistaken to be younger than I really am all the time. Elena with short arms, a tiny bladder, a love for Starbucks and Yodas on her cheeks definitely sounds like a version of me.

Although I love the short story, I found the ending to be unrealistic. I won't spoil it here but a true fan doesn't do what happened at the end of the story.
Kindred Spirits is hilarious yet adorable and quick contemporary read. If you are a huge fan of Stars Wars, fandoms and/or Rainbow Rowell, definitely get your hands on a copy.