Lately cover art for Fall 2016 and Winter 2017 titles have been popping all over the internet. Last week Entertainment Weekly wowed us with cover art for
Caraval
and
Wayfarer
. This week there are
four covers that were revealed. All four books are ones that I am looking forward to and the cover art is absolutely gorgeous with the jewel tones and dark colors. I have to say that the following beauties look rather lovely next to each other.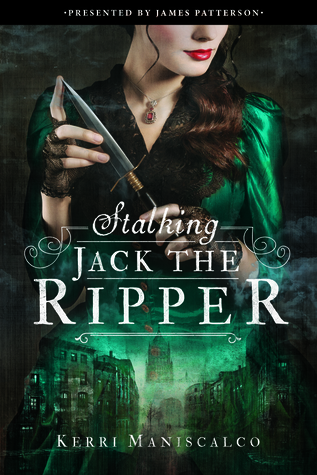 On Wednesday, April 20th, Entertainment Weekly revealed the cover to Stalking Jack the Ripper by Kerri Maniscalco. All I can say is WOW! The cover definitely screams historical fiction and Gothic horror. The red and the green look stunning against the black background. Not only is the cover gorgeous but the excerpt is eerily satisfying and it's definitely not for the faint of heart. Stalking Jack the Ripper is the first YA title under James Patterson's JIMMY imprint. Also, Stalking Jack the Ripper's previous title was Of Blood and Shadow.

Title: Stalking Jack the Ripper
Author: Kerri Maniscalco
Publisher: Jimmy Patterson
Publication date: September 20, 2016
On Thursday, April 21st, YA Interrobang revealed the cover art to Branded, which is the sequel to Inked by Eric Smith. The reds, oranges and purples are stunningly vibrant and they look fantastic next to Inked's sea of blues and greens. Graphic designer, Jenny Zemanek, did a fantastic job designing both covers. Click here to enter to win a e-book of Inked and some posters.

Title: Branded
Author: Eric Smith
Publisher: Bloomsbury Spark
Publication date: September 6, 2016

On Thursday, April 21st, Mashable unveiled the cover to The Midnight Star which is the last book in The Young Elites trilogy by Marie Lu. Not only is this cover art my favorite out of all of the three in the series, but I cannot wait to see how the trilogy ends. The contrast of the coppery bronze lettering against the backdrop of blues is very pleasing to the eyes. Check out what Lu has to say about The Midnight Star here.

Title: The Midnight Star
Author: Marie Lu
Publisher: G.P. Putnam's Sons Books for Young
Publication date: October 11, 2016

On Thursday, April 21st, YA Books Central wowed us with the cover art to Starfall which is the companion book in the Starflight duology by Melissa Landers. Not only is the cover art ravishing, but Starfall is one of my most anticipated book for 2017. The glowing pink and purple pop out of the page, highlighting the title text well. I love how the orb is a planet and the black background brings out the white, purple and pink. Also, I love the movement within space. It definitely screams sci-fi!

Title: Starfall
Author: Melissa Landers
Publisher: Disney-Hyperion
Publication date: February 7, 2017

What do you think of the cover art for the books listed above? Do you have a favorite?