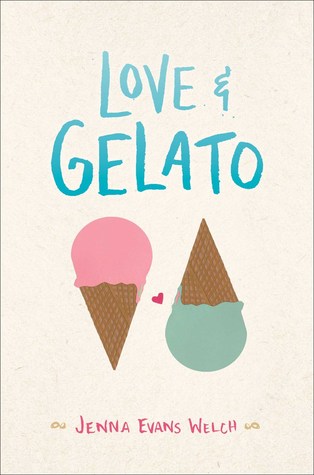 Title:
Love & Gelato
Author:
Jenna Evans Welch
Publisher:
Simon Pulse
Publication date:
May 3, 2016
Pages:
400
Source/format:
ARC from the publisher
Rating:
☆☆☆
☆
☆
Synopsis (from goodreads.com):

Lina is spending the summer in Tuscany, but she isn't in the mood for Italy's famous sunshine and fairy-tale landscape. She's only there because it was her mother's dying wish that she get to know her father. But what kind of father isn't around for sixteen years? All Lina wants to do is get back home.

But then Lina is given a journal that her mom had kept when she lived in Italy. Suddenly Lina's uncovering a magical world of secret romances, art, and hidden bakeries. A world that inspires Lina, along with the ever-so-charming Ren, to follow in her mother's footsteps and unearth a secret that has been kept from Lina for far too long. It's a secret that will change everything she knew about her mother, her father—and even herself.

People come to Italy for love and gelato, someone tells her, but sometimes they discover much more.
M Y T H O U G H T S
Carolina (Lina) Emerson ends up relocating from Seattle to Italy to live with her father, Howard Mercer, about six months after Lina's mother passes. Lina moves to a house located in the Florence American Cemetery and Memorial. Despite Lina not wanting to move to Florence, she meets an array of people such as Lorenzo (Ren) and Thomas. Will Lina stay in Florence just for the summer or will she permanently settle in the birthplace of the Renaissance? Will she fall in love in Ren or Thomas?
Jenna Evans Welch has captured my heart with the love of Florence. When I was reading
Love & Gelato
, it reminded me when I visited Florence, Italy back in 2009. The way Welch describes certain parts of Florence is perfect. I can vividly picture everything she describes from the Boboli Gardens to Ponte Vecchio. It brings back so many memories of all the things I saw and did in Firenze. Oh, how I miss it!
Welch includes journal entries within
Love & Gelato
which adds something extra to the book. Even though Lina's mother passed, Lina can experience Florence through her mother's eyes with the journal; It's like her personal guide to Florence. However, Lina discovers that the journal holds many secrets. And of course, Lina wants to figure out the mystery of why her mother wanted to her move to Florence. With the help of Ren, Lina unearths more than she bargained for.
Love & Gelato
is the perfect heartfelt and romantic novel for those who enjoyed reading
Anna and the French Kiss
. Looking for the perfect book about self-discovery and love in a foreign country, then
Love & Gelato
is the book to pick up for your spring or summer read.