Top Ten Tuesday is a weekly meme hosted by
The Broke and the Bookish
. This week's Top Ten Tuesday asks bloggers to share their top ten bookworm delights. The following delights are in no particular order.
1.
The smell of books
cannot not be replicated with e-books. Although I love both, the smell of new and old pages of books is amazing! I find the mixture of different types of papers and cover material fascinating. Whether the cover is paper, cloth or leather, I appreciate the plethora of textures and smells.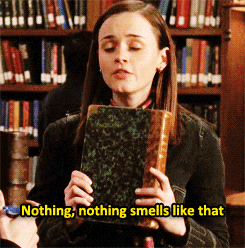 GIF from giphy.com
2.
Aesthetics of books
including cover art, deckled edges, embossing, spot glossing, foiling, maps and gorgeous end papers. I absolutely love all the fine details of a book. I know we are not suppose to judge a book by its cover but there is something special about a book with the publishers add the little things.
3.
Bonding with friends over books
is fantastic! I love chatting with friends about a book we just read and I enjoy buddy reading books. Going to book events or doing other bookish things with friends is something I look forward to.
4.
Meeting new friends over books
is something I look forward to. I cannot count how many friends I met through books. See number 3 for what happens after I meet a new friend.
5.
Fandoms are safe havens
. Without books I wouldn't be a fan of Harry Potter. Without Harry Potter, I would not be immersed into this amazing fandom! I have made many friends through Harry Potter and I love how Harry Potter is being brought to the Muggle world through Wizarding World of Harry Potters, films, meetups, conventions, Quidditch and more. I enjoy bonding over a fandom with others. The memories that we make are priceless.
Image from nary-san.deviantart.com
6.
Collecting copies of a favorite book
is a wonderful feeling. I love collecting versions of a beloved title whether it be collector's edition, an ARC or even a book with a different cover.
7.
Meeting a favorite author
is incredible. It's hard to stay calm without fangirling too much over a book that you love so much with the author. Sometimes I am lost for words but I appreciate the opportunity that I am given.
8.
Connecting with a book is so important.
Sometimes I feel like the authors know me when I read certain books. They hit me hard because I can relate.
9.
Visiting bookstores and libraries
is one of my favorite things to do. The feeling you get when you walk into a bookstore or a library is pure bliss. The quaint indie bookstores to the magnificent libraries pouring with thousands of books is a definitely a treat for my eyes and my soul.
GIF from briansgifs.tumblr.com
10.
Discovering new book titles
is fascinating. I enjoy browsing Goodreads and finding new titles I never heard about. What I love even more is when a friend recommends a title or when I find a title on a blog that I never heard of before but the synopsis intrigues me.
Do you share any of the same bookworm delights as me? What are your delights?