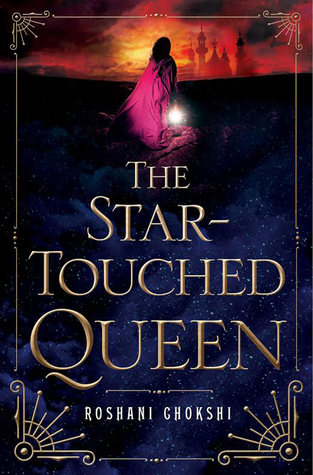 Title:
The Star-Touched Queen
Author:
Roshani Chokshi
Publisher:
St. Martin's Griffin
Publication date:
April 26, 2016
Pages:
352
Source/format:
e-ARC from Publisher
Rating:
☆☆☆
☆
☆
Synopsis (from goodreads.com):

Cursed with a horoscope that promises a marriage of Death and Destruction, sixteen-year-old Maya has only earned the scorn and fear of her father's kingdom. Content to follow more scholarly pursuits, her world is upheaved when her father, the Raja, arranges a wedding of political convenience to quell outside rebellions. But when her wedding takes a fatal turn, Maya becomes the queen of Akaran and wife of Amar. Yet neither roles are what she expected. As Akaran's queen, she finds her voice and power. As Amar's wife, she finds friendship and warmth.

But Akaran has its own secrets - thousands of locked doors, gardens of glass, and a tree that bears memories instead of fruit. Beneath Akaran's magic, Maya begins to suspect her life is in danger. When she ignores Amar's plea for patience, her discoveries put more than new love at risk - it threatens the balance of all realms, human and Otherworldly.

Now, Maya must confront a secret that spans reincarnated lives and fight her way through the dangerous underbelly of the Otherworld if she wants to protect the people she loves.

The Star-Touched Queen is a lush, beautifully written and vividly imagined fantasy inspired by Indian mythology.
M Y T H O U G H T S
Ever since I heard about
The Star-Touched Queen
, I knew I wanted to read it. With it's gorgeous cover art and intriguing synopsis, it is definitely a must read on my TBR list. My friend Rachel kept telling everyone she knew to read this book! Although she is not a huge fantasy lover, she gave it 5 stars and kept pressing me to read
The Star-Touched Queen
. And boy, was she not wrong at all.
The Star-Touched Queen
blew me away! All the stars for
The Star-Touched Queen
!
Princess Mayavati lives in Bharata. The people of Bharata do not believe in ghosts but they believe in horoscopes because the kingdom is choreographed based on the horoscopes. People talk about Mayavati and how she brings death and destruction. Everyone seeks out to get rid of her before she plagues the village. Many want her to leave Bharata in one way or another. And Mayavati eventually escapes her horoscope or so she believes.
Indian folktales and Greek Mythology collide in The Star-Touched Queen, creating a unique story. Roshani Chokshi writes beautifully. Her words are lyrical and poetic; her descriptions are opulent. Chokshi writes with passion. Her prose is intricate and wonderfully well-executed. The imagery is vivid and atmospheric while the plot and characterization work well seamlessly. Although many compare Chokshi's writing to Laini Taylor, I wouldn't know since I haven't read Taylor's full works.
Mayavati is a strong female. She knows what she wants and is resilient! Amar of Akaran is an interesting character. He is complex and multi-faceted. Chokshi incorporates reincarnation, the realm of the dead and an interesting mix of folklore in novel. I appreciate the chapter titles she has included in the book. Chokshi's description of how the threads of life in the tapestry are interconnected is fascinating. The fact that Dharma Raja needs to decide what is best for the people and for the greater good requires a lot of decision making. And Nritti! Oh my Nritti!
The Star-Touched Queen is hard to put down and you definitely want to take your time reading it. With it's exquisite descriptions, take your time immersing yourself in this world. Savor it. Chokshi's writing is impeccable and you don't want the story to end. There is no book like The Star-Touched Queen. I would highly recommend this book to my students and to those who love beautifully written novels.