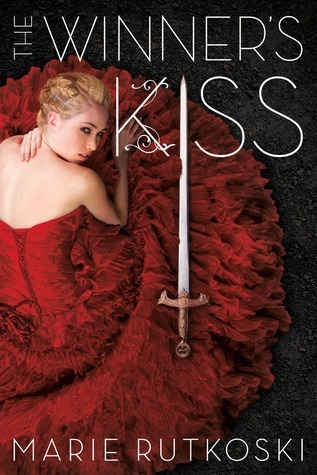 Title:
The Winner's Kiss
Author:
Marie Rutkoski
Publisher:
Farrar, Straus and Giroux (BYR
)
Publication date:
March 29, 2016
Pages:
496
Source/format:
Purchased/Hardcover
Rating:
☆☆☆
☆
☆
Synopsis (from goodreads.com):

War has begun. Arin is in the thick of it with untrustworthy new allies and the empire as his enemy. Though he has convinced himself that he no longer loves Kestrel, Arin hasn't forgotten her, or how she became exactly the kind of person he has always despised.

She cared more for the empire than she did for the lives of innocent people—and certainly more than she did for him.

At least, that's what he thinks.

In the frozen north, Kestrel is a prisoner in a brutal work camp. As she searches desperately for a way to escape, she wishes Arin could know what she sacrificed for him. She wishes she could make the empire pay for what they've done to her.

But no one gets what they want just by wishing.

As the war intensifies, both Kestrel and Arin discover that the world is changing. The East is pitted against the West, and they are caught in between. With so much to lose, can anybody really win?
M Y T H O U G H T S
How do I react to the last book of a series especially when it is phenomenal? In previous installments, there wasn't too much information about Arin and the focus of the book is on Kestrel. In
The Winner's Kiss
, Arin and Kestrel share the stage. As Kestrel tries to gain her memories of her previous life, Kestrel and Arin rekindle their complex friendship and relationship. They are trying to build each other's trust once again. The interaction between Arin, Roshar and Kestrel is alluring. The three mesh well together and they rely in each other's strengths.
Throughout the three books, Marie Rutkoski does a fantastic job with the character development. Kestrel and Arin have grown since
The Winner's Curse
. Never underestimate Kestrel. She is a mastermind and always has tricks up her sleeves even though others do not approve of what she does and believes in. The transitions between Arin and Kestrel work seamlessly as well as the both battles at the end of the novel. Rutkoski has written a captivating trilogy that never wavered. The world building and the political dynamics are still on point and the writing is passionate and compelling.
The Winner's Kiss
has a wonderful balance of swoon worthy moments and action. The ending is perfect for the trilogy! I wouldn't have it any other way because Rutkoski killed it! I have to admit that I was scared to finish this installment of The Winner's Trilogy because I was afraid of how the trilogy would end.
If you're looking for a for a stunning historical fantasy, definitely pick up
The Winner's Kiss
after reading
The Winner's Curse
and
The Winner's Crime
.