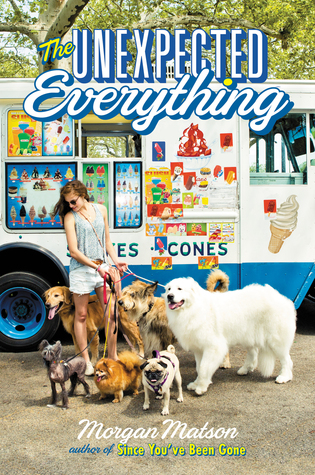 Title:
The Unexpected Everything
Author:
Morgan Matson
Publisher:
Simon & Schuster
Publication date:
May 3, 2016
Pages:
496
Source/format:
ARC from publisher
Rating:
☆☆☆

1/2
Synopsis (from goodreads.com):

Andie had it all planned out.

When you are a politician's daughter who's pretty much raised yourself, you learn everything can be planned or spun, or both. Especially your future.

Important internship? Check.

Amazing friends? Check.

Guys? Check (as long as we're talking no more than three weeks)

But that was before the scandal. Before having to be in the same house with her dad. Before walking an insane number of dogs. That was before Clark and those few months that might change her whole life.

Because here's the thing - if everything's planned out, you can never find the unexpected.

And where's the fun in that?
M Y T H O U G H T S
Andie thought she had her whole life planned out. Andie never has a boyfriend for more than three weeks, she has amazing friends and she scores an internship. Well, that's before the scandal that involves her father, who is a representative and member of Congress. This is Andie's wake up call that everything doesn't always go as planned.
As a teen, everything doesn't go as planned even when one thinks they have everything planned out. Andie is able to adjust and is able to move forward despite everything that has happened. Sometimes things happen for a reason. Andie wouldn't have taken the dog walking job and she wouldn't have met Clark if she didn't lose her internship. This is a good message for teens. Even though things don't go the way you want it to, every cloud has a silver lining.
Morgan Matson realistically portrays teens. They are not perfect and Matson shows that people have flaws. That is what makes people real. The friendships Andie has with Bri, Toby, and Palmer is genuine. Matson has a knack for writing fantastic characters and a variety relationships. However, I felt like the book could have been shorten and certain parts of the novel seemed drawn out longer than it should be. The beginning was a bit slow for me but it did pick up.
Overall,
The Unexpected Everything
is a solid contemporary novel perfect for the summer.