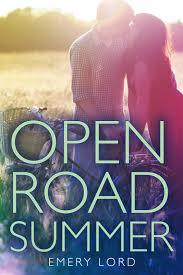 Title:
Open Road Summer
Author:
Emery Lord
Publisher:
Walker Childrens
Publication date:
April 15, 2014
Pages:
352
Source/format:
Hardcover//From Trade
Rating:
☆☆☆
Synopsis (from goodreads.com):

After breaking up with her bad-news boyfriend, Reagan O'Neill is ready to leave her rebellious ways behind. . . and her best friend, country superstar Lilah Montgomery, is nursing a broken heart of her own.

Fortunately, Lilah's 24-city tour is about to kick off, offering a perfect opportunity for a girls-only summer of break-up ballads and healing hearts. But when Matt Finch joins the tour as its opening act, his boy-next-door charm proves difficult for Reagan to resist, despite her vow to live a drama-free existence.

This summer, Reagan and Lilah will navigate the ups and downs of fame and friendship as they come to see that giving your heart to the right person is always a risk worth taking.

A fresh new voice in contemporary romance, Emery Lord's gorgeous writing hits all the right notes.
M Y T H O U G H T S
Country singer Deliliah Montgomery, who goes by Dee by her friends, is touring all summer long. Her best friend Reagan O'Neill is fortunate enough to convince her father that traveling the country on tour will add to her photojournalism portfolio for college applications. Matt Finch, former member of the teen sensation Finch Four, is invited to open for Dee in order to diffuse a situation. Little did Reagan know is that she will fall in love.
Emery Lord knows how to capture hearts of her readers. The friendship between Dee and Reagan is strong. The swoony relationship between Reagan and Matt is on par. I absolutely love the banter between the two. I found it creative to title each chapter after a tour city. Lord invites her readers to partake in the tour.
Despite Reagan's mother walking out on her and her father when she was eight, Reagan tries to move on with her life. After relocating from Chicago to Nashville, Reagan spiraled downwards starting with mouthing off and skipping classes in middle school. She partook in underage drinking in high school and used to flirt with all the seniors. Reagan isn't flawless but she wants to better herself.

However, I wasn't that fond of Reagan. She said some mean things to Dee and Matt. But her actions speaks louder than words. She tried to put up these facade that nothing bothers her but it does. Reagan puts up a wall to protect herself. She often pushed people away and she claims she is not insecure which is false. In fact, Reagan is insecure about herself. She acts very immature sometimes throughout the book. Also, there is cheating in this book which I don't condone.
Open Road Summer is the perfect name for Lord's first book. Its about firsts and that's why it's so special for Lord and for Dee and Reagan. Open Road Summer peels back the layers and the nitty gritty of what it means to be in the spotlight. One doesn't have a say or a life that they want. The record company and the publicists call all the shots. The media twists words and Photoshop photos to their liking. After all, it's for the business.