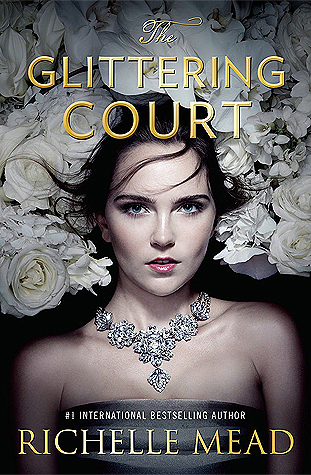 Title:
The Glittering Court
Author:
Richelle Mead
Publisher:
Razorbill
Publication date:
May 3, 2016
Pages:
400
Source/format:
Library//Hardcover
Rating:
☆☆☆
Synopsis (from goodreads.com):

Big and sweeping, spanning from the refined palaces of Osfrid to the gold dust and untamed forests of Adoria, The Glittering Court tells the story of Adelaide, an Osfridian countess who poses as her servant to escape an arranged marriage and start a new life in Adoria, the New World. But to do that, she must join the Glittering Court.

Both a school and a business venture, the Glittering Court is designed to transform impoverished girls into upper-class ladies who appear destined for powerful and wealthy marriages in the New World. Adelaide naturally excels in her training, and even makes a few friends: the fiery former laundress Tamsin and the beautiful Sirminican refugee Mira. She manages to keep her true identity hidden from all but one: the intriguing Cedric Thorn, son of the wealthy proprietor of the Glittering Court.

When Adelaide discovers that Cedric is hiding a dangerous secret of his own, together they hatch a scheme to make the best of Adelaide's deception. Complications soon arise—first as they cross the treacherous seas from Osfrid to Adoria, and then when Adelaide catches the attention of a powerful governor.

But no complication will prove quite as daunting as the potent attraction simmering between Adelaide and Cedric. An attraction that, if acted on, would scandalize the Glittering Court and make them both outcasts in wild, vastly uncharted lands…
M Y T H O U G H T S
Adelaide Bailey trades in her countess lifestyle in Osfrid for one disguised as maid to enter the Glittering Court, which is a finishing school to help common women fine tune their etiquette skills to be married off to wealthy suitors in the new world of Adoria.
Adelaide is a headstrong, opinionated young lady who is willing to make a better life for herself even if she needs to make sacrifices. Although I admire her ambition, I was sad that she wasn't able to trust anyone with the truth about who she is. Why did Adelaide run from an arranged marriage just to be contracted to be purchased by a man to be his wife? It seems a little backwards.
Adelaide also made new friends but then refuses to share who she is. I was surprised how she broke Tamsin's trust but then claims that Tamsin is one of her best friends. Adelaide pretty much ignored Tamsin until a disaster strikes. However, the friendship is mended. Despite that one incident, the friendships in
The Glittering Court
is strong. Adelaide, Tamsin and Mira are very close and will protect each other.
Richelle Mead created an interesting historical fantasy that fuses colonization with political issues and a gold rush.
The Glittering Court
starts off very similar to
The Selection
with girls in pretty dresses learning to socialize and carry themselves within the elite. But the whole matchmaking to sell the girls was sort of off-putting. The fact that people are profiting off women is demeaning. Also, I found the world building a bit lacking. I wish Mead fleshed out the world a bit more in detail.
The Glittering Court
definitely reminds me of our past. The colonization, the discrimination between ethnicity and the religious persecution is our past and present. Hopefully it will not be our future.