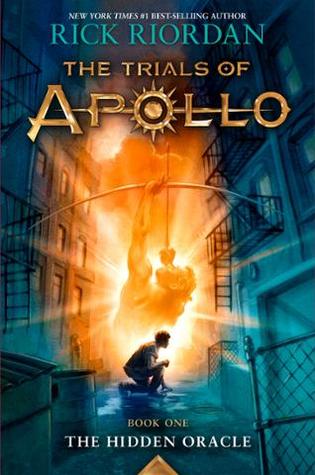 Title:
The Hidden Oracle
Author:
Rick Riordan
Publisher:
Disney-Hyperion
Publication date:
May 3, 2016
Pages:
384
Source/format:
Library // Hardcover
Rating:
☆☆☆
☆
Synopsis (from goodreads.com):

How do you punish an immortal?

By making him human.

After angering his father Zeus, the god Apollo is cast down from Olympus. Weak and disorientated, he lands in New York City as a regular teenage boy. Now, without his godly powers, the four-thousand-year-old deity must learn to survive in the modern world until he can somehow find a way to regain Zeus's favour.

But Apollo has many enemies - gods, monsters and mortals who would love to see the former Olympian permanently destroyed. Apollo needs help, and he can think of only one place to go . . . an enclave of modern demigods known as Camp Half-Blood.
M Y T H O U G H T S
Apollo is cast down on Earth as a mere mortal as punishment by Zeus after the events of The Blood of Olympus. Without his powers of a God, Apollo has to fend for himself. Known as
Lester Papadopoulos in the mortal world, Apollo befriends a girl named Meg McCaffrey who takes him to a demigod who leads them to Camp Half-Blood.
Rick Riordan takes us back to world of Percy Jackson by reuniting us with familiar faces. Not only is the writing witty and addicting, but Riordan's take on diversity in all aspects is amazing. He expands on the diversity that is seen in his previous books.
Every reader can find at least one character to relate to if not more.
In the novel, Apollo stays true to himself even as a mortal. He is arrogant and self-obsessed. He no longer excelled in music, archery, poetry and healing. Apollo has to rely on his other strengths to succeed.
I enjoyed revisiting Camp Half-Blood in this spin off series. However, I feel like the world could have ended with what happened in the The Blood of Olympus. Time will tell though. I have high expectations for the the next book,
The Dark Prophecy.
The Trials of Apollo: The Hidden Oracle is a fun middle grade read for fans of
Percy Jackson and the Olympians series and The Heroes of Olympus series.