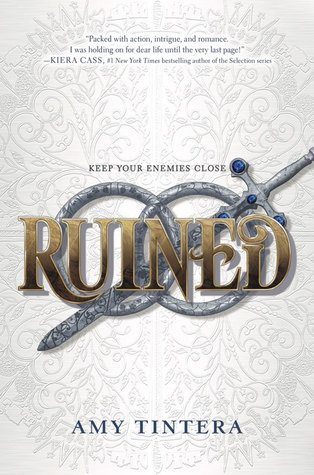 Title:
Ruined
Author:
Amy Tintera
Publisher:
HarperTeen
Publication date:
May 3, 2016
Pages:
368
Source/format:
ARC from publisher
Rating:
☆☆☆
☆
Synopsis (from goodreads.com):

Emelina Flores has nothing. Her home in Ruina has been ravaged by war. She lacks the powers of her fellow Ruined. Worst of all, she witnessed her parents' brutal murders and watched helplessly as her sister, Olivia, was kidnapped.

But because Em has nothing, she has nothing to lose. Driven by a blind desire for revenge, Em sets off on a dangerous journey to the enemy kingdom of Lera. Somewhere within Lera's borders, Em hopes to find Olivia. But in order to find her, Em must infiltrate the royal family.

In a brilliant, elaborate plan of deception and murder, Em marries Prince Casimir, next in line to take Lera's throne. If anyone in Lera discovers Em is not Casimir's true betrothed, Em will be executed on the spot. But it's the only way to salvage Em's kingdom and what is left of her family.

Em is determined to succeed, but the closer she gets to the prince, the more she questions her mission. Em's rage-filled heart begins to soften. But with her life—and her family—on the line, love could be Em's deadliest mistake.
M Y T H O U G H T S
Emelina Flores's parents, the king and queen of Ruina, are murdered and her sister is kidnapped by a neighboring kingdom, Lera. She infiltrates the Lera for revenge but soon find out that she is falling in love with Prince Casimir. Will she be able to carry her duty to free Olivia and to slaughter Lera's royal family?
This is Amy Tintera's first fantasy novel and I am glad it is not her last. The characters Tintera created are riveting. Although Emelina lacks magical powers of Ruina and Ruined marks, she fills the void with being exceptional in combat with a sword. She is intelligent and is strategic. Those that lack magic are looked down upon as useless but Emelina proves everyone wrong. Magic isn't the only thing that can be deadly.
Although the romance is subpar, I see growth in the sequel. The alternating third person POVs between Emelina and Casimir worked well. I hope Tintera explains more about the four kingdoms in the sequel. Three pages into the novel and there is already a death. Emelina has no problem killing people. Males and females step on equal ground. People die in the book. Everyone has a chance to live if they can survive.
Ruined
packs a punch of action, adventure, revenge and deceit. Pick up this YA fantasy novel when you have a chance. The novel as a whole is intriguing and will keep readers on their toes.