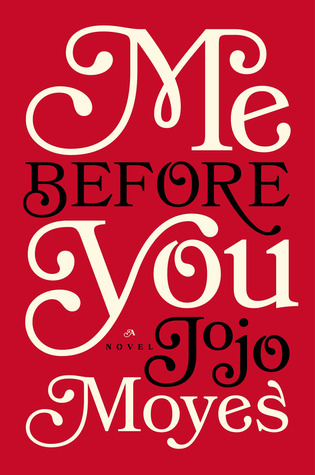 Title:
Me Before You
Author:
Jojo Moyes
Publisher:
Pamela Dorman Books/Viking
Publication date:
December 31, 2012
Pages:
369
Source/format:
Library/Hardcover
Rating:
☆☆☆
☆
Synopsis (from goodreads.com):

Lou Clark knows lots of things. She knows how many footsteps there are between the bus stop and home. She knows she likes working in The Buttered Bun tea shop and she knows she might not love her boyfriend Patrick.

What Lou doesn't know is she's about to lose her job or that knowing what's coming is what keeps her sane.

Will Traynor knows his motorcycle accident took away his desire to live. He knows everything feels very small and rather joyless now and he knows exactly how he's going to put a stop to that.

What Will doesn't know is that Lou is about to burst into his world in a riot of colour. And neither of them knows they're going to change the other for all time.

M Y T H O U G H T S
I heard nothing but great things about
Me Before You
. This contemporary novel is a quick heartfelt read. Louisa Clark (Lou) has been let go of her job at The Buttered Bun. Lou is desperate for a job after not being able to hold a permanent position. She finally lands a job as a caregiver for Will Traynor who is a quadriplegic. Although Lou and Will do not start off on the right foot, their relationship deepens as time passes.
Me Before You
is an emotional roller coaster. There are so many feels. First I am happy, then worried, then overjoyed and then I am tearing up. Lou is quirky and very likable. Will, on the other hand, takes some time to warm up to. As their relationship progresses, I wanted to read more about Lou and Will but I knew what the ending encompasses.
Me Before You
reminds me of
The Fault in our Stars
. It will lift you off your feet and remind you that you can find love and happiness in unexpected places.
Jojo Moyes has written an unforgettable book that is timeless. The character development within Lou and Will is strong; I enjoyed reading about their adventures and how they blossomed to the people who they become. I was a bit irritated with Lou's family and Patrick but Moyes has captured many personalities in
Me Before You
. The balance between rich and poor even out in one territory which I love.
I am looking forward to seeing the film adaptation of
Me Before You
. So far the trailer looks promising.
Me Before You
is a heartbreaking novel that is a MUST read!