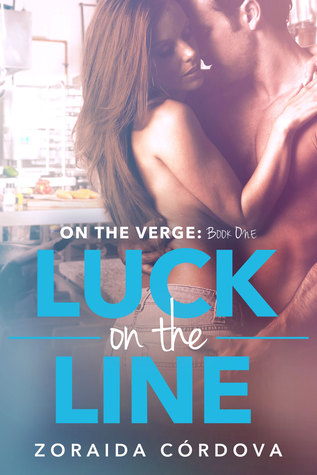 Title:
Luck on the Line
Author:
Zoraida Córdova
Publisher:
Diversion Books
Publication date:
November 11, 2014
Pages:
231
Source/format:
e-ARC from the publisher on Netgalley
Rating:
☆☆☆☆
Synopsis
(from Goodreads)
:
To turn her life around, she'll have to stand the heat. To fulfill his dreams, he'll have to get Lucky.
Despite her name, Lucky Pierce has always felt a little cursed. Refusing to settle for less or settle down, she changes jobs as often as she changes boyfriends. When her celebrity chef mother challenges her to finish something, Lucky agrees to help her launch Boston's next hot restaurant, The Star. Even if it means working with the infuriating, egotistical, and undeniably sexy head chef.
James loves being known as Boston's hottest bad boy in the kitchen, but if he wants to build a reputation as a serious chef, he has to make this restaurant work and keep his scandalous past out of the headlines. Getting involved with his boss's spoiled, sharp-tongued daughter is definitely not on the menu.
As the launch of The Star looms and the tension and chemistry heat up in the kitchen, they're going to need more than a little luck to keep everything from boiling over.
My Thoughts:
The first sentence of
Luck on the Line
hooked me right away. The fact that Lucky Pierce meets a guy at a local coffee joint only to find out that he works for her mom as an executive chef at a top of the line restaurant is priceless. Also, can I say that this chef is also a TV celebrity on Sliced Champion? Even though Lucky is sexually attracted to Chef James Hughes, his personality turns Lucky off but eventually, Lucky warms up to James.
Lucky lives in New York and is helping her mother, Stella, open a restaurant named The Star on the waterfront of Boston. Despite her name Lucky, Lucky is super clumsy and has been bouncing around from job to job. Lucky has tried culinary, bartending, journalism and currently she is working on photography. Of course right before a huge tasting event, Stella decides to go to New York without telling Lucky in person. Stella seems to have a habit for leaving out these small details. Felicity, Stella's assistant, is the messenger. Lucky is pretty much in charge until Stella comes back to Boston. There is something in James' past that Lucky is trying to figure out. Is he hiding something? Does Clarissa Adams, the reporter, know about his past?
With Stella being out of town, Lucky gets a bit closer to James. FYI..there are a few sexy time scenes in
Luck on the Line
in case you didn't realize already. Lucky can't help herself in swooning over James during the whole entire book. She describes his muscles, arms and his eyes. They hooked up once after a Fenway game at her mother's place. James formally asks Lucky to dinner and the next thing you know it, they are intertwined together.
One thing that bothered me about this book was the mention of sea green eyes. They are mentioned over ten times. I understand mentioning sea green eyes a few times but it was a bit overkill. But overall I enjoyed the book. I liked seeing Lucky trying to figure who she is and what she wants in life. I love the different relationship dynamics between Lucky and Stella, James, Felicity and Bradley. The pacing of the book is good and I love the character development. And because I am a big foodie, I love books incorporating the food industry. My mouth was pretty much watering when I was reading some of the menu items offered at The Star. I actually thought it was brilliant that Córdova used "Lucky" by Britney Spears for some inspiration for names in this book.
Want to find out more about what happens when Stella returns to Boston? Want to hear more about Lucky and James? Pick up
Luck on the Line
and find out!
Luck on the Line
is the first book in the On the Verge trilogy. Thank you to Diversion Books and Netgalley for providing the e-ARC to review.