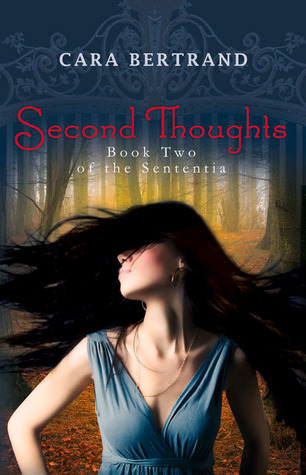 Title:
Second Thoughts
Author:
Cara Bertrand
Publisher:
Luminis Books
Publication date:
October 1, 2014
Pages:
295
Source/format:
ARC from Goodreads First Reads
Rating:
☆☆☆☆
☆
Synopsis
(from Goodreads)
:
Secrets, lies, and looming deaths—all things Lainey Young deals with in a typical day of high school. In her senior year at Northbrook Academy—a New England boarding school where the majority of the students and nearly all the staff are members of the Sententia, a hidden society of the psychically gifted—Lainey has even more to worry about. Things like classes, college, her boyfriend, and, of course, the vision she glimpsed of her impending death. But to her surprise, Lainey finds one worry she can cross off her list, namely Senator Daniel Astor, the leader of the Sententia. After a shocking discovery when they finally meet, Lainey realizes maybe she was wrong to distrust the Senator. She relaxes even further when he seems to accept her refusal to work for him after graduation. But with her secrets mounting and the time to solve them running out, there's a final enigma Lainey hasn't yet encountered: Daniel Astor doesn't take no for an answer. Ever.
My Thoughts:
Lainey is starting her senior year at Northbrook Academy. Amy has redecorated the dorm room and so far the year is going smoothly. Lainey finally meets Senator Dan Astor and is surprised he is a split image of her dad. She feels bad about Jill and Astor claims that they won't be seeing Jill anytime soon due to Jill losing her Sententia gift.
Lainey has already found out that she is a Grim Diviner and a Hangman but when she finds out more about her heritage, she is shocked. Dan wants Lainey to be the assassin-in-residence after she graduates from the academy. He wants her to join the Perceptum and to carry out the Marwood burden. She is not so sure about joining the Perceptum and carrying out the task that literally kills. Speaking about killing, Lainey actually foresees herself dying in visions. When and where it happens isn't clear but Lainey is trying to figure out how to avoid her death. And somehow Dan is responsible for this vision.
Dan has secrets that no one knows about until Lainey stumbles upon things that should be left in the closet. She needs to save herself before graduation or end up dead. Dan doesn't like "No" for an answer. He has clearly been lying to Lainey about him not using his gift. He uses other people like pawns to carry out his dirty work while he stands on the sidelines watching. However, Lainey has another Sententia gift that sparked this year. Dan does not know about it and the gift saves her life.
The novel kept me on the edge of my seat. There was so much going on in this installment of The Sententia series. I love it even more than
Lost in Thought
. Lainey is a strong woman. There are a lot of obstacles that she needs to face and she handles them quite nicely. I love how she is proactive and is very protective of those she loves.
Of course, Alexis is still butting heads with Lainey during their senior year but what makes it worse is that Alexis' cousin Mandi just started at the Academy and is stirring up trouble. And this time, Alexis is not behind the boyfriend snatching. Mandi has an agenda of her own and Lainey is the target but through other means. Mandi does not attack Carter.
I love how Cara Bertrand starts the novel with Carter and Lainey at the shooting range and how the second to last scene in the book also happens to be at the shooting range. There is lovely foreshadowing happening in this book.
Second Thoughts
is part mystery, part romance and part coming-of-age story. I highly recommend this book.
I seriously had some tears for the ending of
Second Thoughts
. It was a tough choice Lainey had to make but she had to do what was best. Let's see where Bertrand takes us in Sententia book #3.