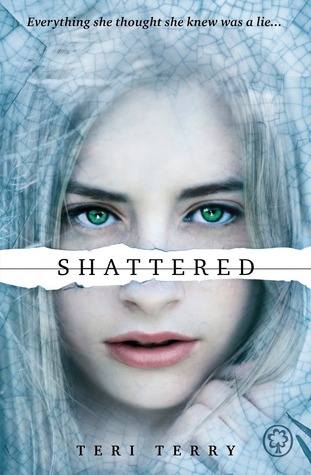 Title:
Shattered
Author:
Teri Terry
Publisher:
Orchard Books
Publication date:
March 6, 2014
Pages:
402
Source/format:
Library/hardcover
Rating:
☆☆☆☆
☆
Synopsis (from Goodreads):
This is the UK, Australia & New Zealand edition, released on March 6. The release date for US and Canada is May 1.
The riveting finale of the Slated trilogy!
A thought-provoking psychological thriller set in a disturbingly plausible future where the government and its enemies compete to control the minds of the young
Kyla is in danger from both the government Lorders who erased her memory and the terrorists who tried to use her. So now she's on the run. Sporting a new identity and desperate to fill in the blank spaces of her life pre-Slating, Kyla heads to a remote mountain town to try to reunite with the birth mother she was kidnapped from as a child. There she is hoping all the pieces of her life will come together and she can finally take charge of her own future. But even in the idyllic wilderness and the heart of her original family, Kyla realizes there is no escape from the oppressive Lorders. Someone close to her may be one of them, and even more frighteningly, her birth mother has been keeping secrets of her own.
In this stunning series finale, Kyla finally finds out who she really is, and the road to this discovery, and to deciding who she wants to become, is full of dangerous twists and turns that will keep readers riveted.
My Thoughts:
I am loving this final installment to this trilogy. The fact that Kyla gets to start over as Riley Kain and meets her birth mother is exciting. However, Kyla needs to make sure she does not slip up in order to remain safe. She needs to remember what Aiden told her about keeping her true identity unnoticed. Kyla was able to use IMET technology to change her golden locks to a more sophisticated brown. She ends up
keeping her green eyes despite the suggestion to an eye color change.

The Lorders and the AGT are on the lookout for Kyla. No where is safe. Taking on the new identity was nerve-wracking at first. Kyla almost got caught on the train and a couple of people were suspicious of her when she arrived to the Waterfall House for Girls and CAS. For so long Kyla wanted to meet her mother, Stella. However, she finds out that Stella is harboring some secrets. Kyla finds out more about how she was "kidnapped" and what Astrid, Kyla's grandmother, has in store for her.

I felt like Kyla has finally reunited with what she has lost. However, Kyla is disappointed again when she finds out the truth about her heritage. Kyla is upset when her friend Madison is taken by the Lorders with no trace of where Madison went. Kyla is furious with the Lorders and the AGT. They have stolen her childhood from her and have stolen the childhood of many other children. Kyla can't remember much prior to being Slated. But it seems like random things she sees or hears are triggering her repressed memories.

Kyla even uncovered some information about the Lorders and the AGT with Finley and Len. The information was shocking and revealed a lot about the Lorders' and AGT's agenda. Kyla finally finds out more about her true parents in the most weird way possible. I am glad she finally reunites with her family. The fact that she has been lied to her whole entire life about who her biological family is makes me cringe. I would hate it if I was lied to my whole entire life. How is someone suppose to trust others if everyone is lying? To see Kyla struggle throughout the whole series was hard. She had taken on so many identities to find out who she is and had to go through so much to survive. But she doesn't go down without a fight.

Shattered is a psychological dystopian thriller. There are many twists in this series and especially in this installment. This book moves at a fast pace and it's hard to put down. The writing is phenomenal. Terry pulls her readers in from page one. The Slated trilogy is probably one of my favorite dystopian trilogies that I have read. If you love dystopian novels, definitely check out it out. You won't be disappointed. I love Kyla's character. She is strong willed, curious and is selfless. She cares about others and is willing to put her life on the line. Kyla has lost a lot but has a lot to gain. I am glad she finally finds closure at the end of Shattered.