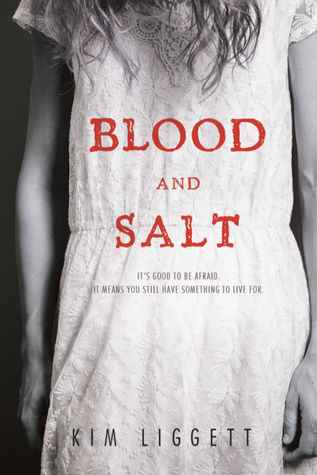 Title:
Blood and Salt
Author:
Kim Liggett
Publisher:
G.P. Putnam's Sons Books for Young Readers
Publication date:
September 22, 2015
Pages:
368
Source/format:
ARC from BEA15
Rating:
☆☆☆
☆
☆
Synopsis (from Goodreads.com):

Romeo and Juliet meets Children of the Corn in this one-of-a-kind romantic horror.

"When you fall in love, you will carve out your heart and throw it into the deepest ocean. You will be all in—blood and salt."

These are the last words Ash Larkin hears before her mother returns to the spiritual commune she escaped long ago. But when Ash follows her to Quivira, Kansas, something sinister and ancient waits among the rustling cornstalks of this village lost to time.

Ash is plagued by memories of her ancestor, Katia, which harken back to the town's history of unrequited love and murder, alchemy and immortality. Charming traditions soon give way to a string of gruesome deaths, and Ash feels drawn to Dane, a forbidden boy with secrets of his own.

As the community prepares for a ceremony five hundred years in the making, Ash must fight not only to save her mother, but herself—and discover the truth about Quivira before it's too late. Before she's all in—blood and salt.
My Thoughts
Blood and Salt
is an incredibly captivating and compelling romantic horror love story. I was at the edge of my seat hungry for more. From the first page, I was hooked. Kim Liggett's
Blood and Salt
is the perfect read if you are hunting for a haunting and chilling horror romance. A dead girl always haunts Ashlyn Larkin. Ash finds out this girl is tied to her because of her mother's history in Quivira, Kansas. Ash ends up leaving her home in NYC with her twin brother to return to the spiritual commune her mother once lived in.
Ash and Rhys are twins and they are complete opposites of each other. Ash is daring, curious and competitive. Rhys is cautious and likes to follow everything by the books. There are a couple of twists and turns that I thought worked well in the book. I love the flashback memories that Ash has throughout the whole novel. It helps complete the story and ties the past with the present and future. The intricate history of Quivira definitely interested me. All I can think of is Vampire Diaries and the love triangle between Qetsiyah, Silas and Amara. The promise to be immortal between two people is not promised between the intended and someone is angry and wants revenge. The villagers of Quivira remind of the Travelers. Both live in a cult like world.
Liggett's descriptive words are hauntingly beautiful. She also adds a bit of comedy through Rhys and weaves magic within the a Village like society. Five hundred years will unravel due to the ultimate sacrifice of love!
I would definitely suggest reading this novel for the month of October. You will definitely be craving for more. Liggett's words bewitch the reader and you will be scared to turn off the light. For some readers, I highly suggest not reading this book at night. I cannot guarantee that you will have nightmares or be creeped out.