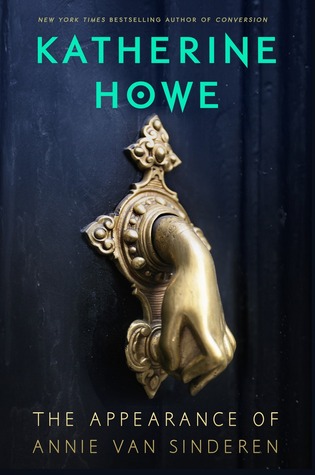 Title:
The Appearance of Annie Van Sinderen
Author:
Katherine Howe
Publisher:
G.P. Putnam's Sons Books for Young Readers
Publication date:
September 15, 2015
Pages:
400
Source/format:
e-ARC from Edelweiss
Rating:
☆☆☆
☆
Synopsis (from Goodreads.com):

A haunting, contemporary love story from the New York Times bestselling author of Conversion

It's summertime in New York City, and aspiring filmmaker Wes Auckerman has just arrived to start his summer term at NYU. While shooting a séance at a psychic's in the East Village, he meets a mysterious, intoxicatingly beautiful girl named Annie.

As they start spending time together, Wes finds himself falling for her, drawn to her rose petal lips and her entrancing glow. But there's something about her that he can't put his finger on that makes him wonder about this intriguing hipster girl from the Village. Why does she use such strange slang? Why does she always seem so reserved and distant? And, most importantly, why does he only seem to run into her on one block near the Bowery? Annie's hiding something, a dark secret from her past that may be the answer to all of Wes's questions . . .





My Thoughts

Wes Auckerman is 19-years-old and attends NYU's summer film program. Originally from Madison, Wisconsin, Wes can't wait to pursue his passion for film making. At a filming of a séance in the Bowery, Wes and his film buddy, Tyler, see a girl with a satin bow blocking the frame. Wes is intrigued about the girl who tries to communicate with him until she vanished. He is drawn in by her beauty. He wants to find out more about her but Tyler needs to find this girl, Annie, in order for her to sign a media release in order for Tyler's art film to be presented. Wes also meets a girl named Maddie at the séance However, Annie is the girl of Wes's dreams but Maddie is a girl of reality. How are Annie and Maddie connected?

The novel is written in dual POV. Readers get to see what is going on in New York through the eyes of Wes and also through Annie's POV. Katherine Howe writes evocative description touching all five senses. The novel is beautiful and eerie at the same time. The Appearance of Annie van Sinderen keeps you at the edge of your seat wanting more. History and the supernatural collide in modern day New York which gives the novel an interesting vibe.

I find it unusual Wes is oblivious that Annie keeps disappearing and reappearing out of nowhere. The fact that he is entranced by her beauty from the first time he meets her is amusing. He goes out of his way trying to find her even though he doesn't know anything about her. Select people can see Annie and apparently no one has a clue who or what she is. Some of the narration could have been cut down a bit. I found the novel quite lengthy. However, I enjoyed Howe's take on memories and film. The transience of the memories and the permanence of the film merge together, layering each other while creating a piece of art.

If you are looking for a contemporary with history, mystery and a bit of romance, definitely pick up The Appearance of Annie Van Sinderen. This will be a great read for October.