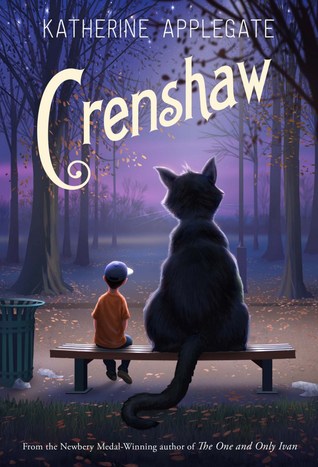 Title:
Crenshaw
Author:
Katherine Applegate
Publisher:
Feiwel & Friends
Publication date:
September 22, 2015
Pages:
256
Source/format:
e-ARC from Edelweiss
Rating:
☆☆☆
☆
1/2
Synopsis (from Goodreads.com):

In her first novel since winning the Newbery Medal, Katherine Applegate delivers an unforgettable and magical story about family, friendship, and resilience.

Jackson and his family have fallen on hard times. There's no more money for rent. And not much for food, either. His parents, his little sister, and their dog may have to live in their minivan. Again.

Crenshaw is a cat. He's large, he's outspoken, and he's imaginary. He has come back into Jackson's life to help him. But is an imaginary friend enough to save this family from losing everything?

Beloved author Katherine Applegate proves in unexpected ways that friends matter, whether real or imaginary.
My Thoughts
Life as Jackson is quite tough. His parents aren't making enough money to make ends meet. His dad works random odd jobs here and there but when Dad gets sick, Dad has to cancel his appointments. His mom works multiple jobs. Jackson's dad is very prideful and doesn't want to ask for help because he believes if he asks for help, then he is a failure. Jackson also lives with his sister, Robin, and his dog, Aretha.
Jackson is all about facts and he loves how science is all facts. He wants to be animal scientist when he grows up. What's ironic is that he has an imaginary friend named Crenshaw the cat. Crenshaw often visits Jackson at times he needs Crenshaw the most. Crewnshaw is a human sized cat with white and back fur. He loves bubble baths and he likes the surf. Jackson and Crenshaw bond over purple jelly beans. Jackson learns to enjoy the magic of Crenshaw while he can even though there is no logical explanation of why Crenshaw exists.
"Imaginary friends are like books. We're created, we're enjoyed, we're dog-eared and creased, and then we're tucked away until we're needed again." - ARC of Crenshaw
When parents say things are all right, children often believe their parents until they find out things are not okay and everything is not all right. Since Jackson is a fact lover, he would rather have his parents tell him the truth about what is going on. He doesn't want his parents sugarcoating everything and pretending that everyone is peachy keen. He wants his parents to tell him and his sister about what is going on; he wants the truth.
Katherine Applegate wrote a middle grade book that covers multiple topics such as multiple sclerosis, poverty and homelessness. Applegate has a way of tackling tough issues in a way where the reader can understand wholeheartedly. Most middle grade books I read are usually fantasy. Applegate integrates fantasy into a contemporary novel. She adds some humor to difficult topics.
Crenshaw
opens the reader's eyes to other types of families besides the perfect family of four living with a dog in a nice house with a white picket fence.
Crenshaw
is a heartfelt novel for readers of all ages.