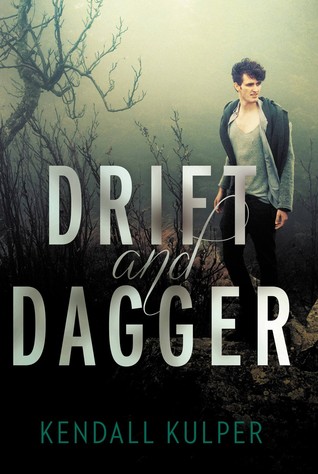 Title:
Drift & Dagger
Author:
Kendall Kulper
Publisher:
Little, Brown Books for Young Readers
Publication date:
September 8, 2015
Pages:
368
Source/format:
ARC from
Mackenzi Lee
Rating:
☆☆☆
☆
1/2
Synopsis (from Goodreads.com):

As a boy in the late nineteenth century, Mal's only friend was Essie, daughter of the Roe witch, and it was she who discovered that he is a "blank," not affected by magic, setting him on a career as a con artist, traveling the globe in search of a legendary magical dagger that can steal a witch's power.
My Thoughts
Drift & Dagger
is a companion novel to
Salt & Storm
. We met Essie in
Salt & Storm
and now we get to hop back in time to when Essie is younger. Through a gentleman named Mal (short for Malcolm), we find out who Essie is. Just like
Salt & Storm
, the novel is a historical fantasy. What I love about this novel is all the traveling Mal does with his partner in crime, Boone. A life as a hunter of magical objects is dangerous but Mal has nothing to lose. At least he can confine in Boone for company and they can explore the world. He cannot return to Prince Island unless it's for a good reason. Traveling from Prince Island to Boston to London and Paris is just the start of his journey to find the magical dagger, the s
har
. Mal doesn't want the riches and glory from the dagger; he just wants revenge. Essie took something of his and he wants to take something of her's.
I actually enjoyed this novel even more than Salt & Storm. Kulper creates a outstanding world fusing the 1850's with magic. Again she is a storyteller as she captivates your heart with Mal. There is something about Mal that I fell in love with. The way he talks, the way he thinks and the way he carries himself is enthralling. All Mal ever wanted is to belong. He wanted a family and friends. It's hard to be an orphan and casted away by people he once trusted.
If you are looking for a charming historical novel with a dash of adventure and lots of magic, definitely check out Drift & Dagger. You will be entranced by the story of Mal.