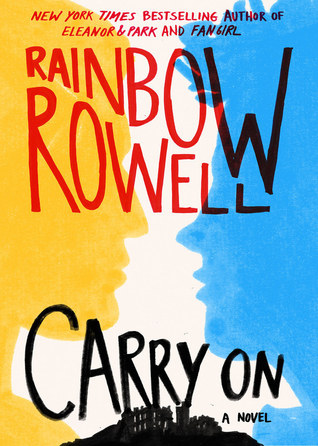 Title:
Carry On
Author:
Rainbow Rowell
Publisher:
St. Martin's Griffin
Publication date:
October 6, 2015
Pages:
522
Source/format:
Purchased // Hardcover
Rating:
☆☆☆
☆
Synopsis (from goodreads.com):

Simon Snow is the worst chosen one who's ever been chosen.

That's what his roommate, Baz, says. And Baz might be evil and a vampire and a complete git, but he's probably right.

Half the time, Simon can't even make his wand work, and the other half, he sets something on fire. His mentor's avoiding him, his girlfriend broke up with him, and there's a magic-eating monster running around wearing Simon's face. Baz would be having a field day with all this, if he were here—it's their last year at the Watford School of Magicks, and Simon's infuriating nemesis didn't even bother to show up.

Carry On is a ghost story, a love story, a mystery and a melodrama. It has just as much kissing and talking as you'd expect from a Rainbow Rowell story—but far, far more monsters.

My Thoughts
It's crazy how
Carry On
is about fictional characters from a fictional book called
Fangirl
. Now
Fangir
l is one of my all time favorite books and I
HAD
to read
Carry On
even though it's meta. Now, this is Rainbow Rowell's version of the Simon Snow series. This is
NOT
Cath's fan fiction and this is
NOT
a Gemma T. Leslie's novel.
Simon Snow, an orphan, is the Chosen One based on a prophecy. The Insidious Humdrum is the greatest evil and threat to Watford, the ultra exclusive boarding school for magicians. When Simon turned 11-years-old, the Mage visited young Simon at a children's house and brought him to Watford's to be trained as a Magician. However, Simon didn't know he will be the one facing the Humdrum.
According the the prophecy:
And one will come to end us
And one will bring his fall
Let the greatest power of powers reign
May it save us all
The novel is multi-perspective and it could confuse some readers at time. Rowell made it clear who is talking for each chapter since the speaker's name is listed under the chapter number. However, it is hard to figure out what happened during Simon's earlier years of life. Since Simon is in his 8th year at Watford's, readers miss out on seven years of adventures and discoveries. It's like reading
Harry Potter and the Deathly Hallows
and not reading the first six books in the series.
Simon and his girlfriend, Agatha, feelings for each other are constantly waning and they end up breaking up. His best friend, Penelope is always there for him in a Hermione like way. I love the banter between Simon and Penelope. I didn't really care for Agatha since Agatha annoyed me at times throughout the novel. Simon and Agatha didn't share a connection at all but then comes Baz.
The fact that Simon Snow is the most powerful magician alive. That nothing can hurt him, not even me.
That Simon Snow is alive.
And I'm hopelessly in love with him.
-Baz
Carry On
is quite nostalgic for me. Not only is
Carry On
similar to Harry Potter, but it also brings me back to my teenage years when I use to read a lot of Harry Potter fan fiction.
Carry On
has a lot of parallels with Harry Potter. My sister and I loved reading Harry Potter fan fiction whether it be regular or slash fan fiction. Baz and Simon reminds me of Draco and Harry. I used to read a lot of Drarry fan fiction so reading about Simon and Baz definitely hit home.
BAZ! OMG! BAZ!
He's definitely my favorite character! I love how snarky he is. He reminds me of a blend of Draco and Severus. And who doesn't like his full name, Tyrannus Basilton Grimm-Pitch?
I wish Rowell went into more detail about the setting of the magical world. There wasn't enough description and what I love about any book is an author thoroughly describing the surroundings. I also wish Rowell elaborated more on the Mage's intentions since it isn't fully fleshed out and I want to know about the Coven, Old Families and the World of Mages. The Humdrum had barely any background information as well. I was bothered by how some of the American words slipped into the British setting. Agatha says Merry Christmas instead of Happy Christmas.
Overall, I enjoyed the book but the ending felt rushed. All the action happens in Book 4. Also, without prior knowledge of Simon's other seven years and his past, readers need to fill in the gaps quickly. Rainbow writes with magic. I mean who doesn't like Simon and Baz? I wish there were more romance between Simon and Baz. Maybe I am just too hopeful. If you're having Harry Potter and/or
Fangirl
withdrawals, definitely pick up
Carry On
.