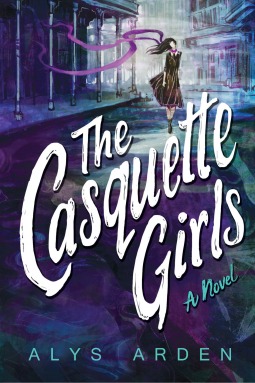 Title:
The Casquette Girls
Author:
Alys Arden
Publisher:
Skyscape
Publication date:
November 17, 2015
(first published October 31, 2013)
Pages:
565
Source/format:
e-ARC from Netgalley
Rating:
☆☆☆
☆
Synopsis (from goodreads.com):

Seven girls tied by time.
Five powers that bind.
One curse to lock the horror away.
One attic to keep the monsters at bay.

After the storm of the century rips apart New Orleans, sixteen-year-old Adele Le Moyne wants nothing more than her now silent city to return to normal. But with home resembling a war zone, a parish-wide curfew, and mysterious new faces lurking in the abandoned French Quarter, normal needs a new definition.

As the city murder rate soars, Adele finds herself tangled in a web of magic that weaves back to her own ancestors. Caught in a hurricane of myths and monsters, who can she trust when everyone has a secret and keeping them can mean life or death? Unless . . . you're immortal.
My Thoughts
After the events of Hurricane Katrina, Adele Le Moyne returns home to New Orleans only to see her home in shambles. Adele is independent and is coping with her newfound powers where she finds some of New Orleans' supernatural creatures. Alys Arden weaves historical fiction with paranormal fantasy, creating a world of witches, vampires and the paranormal integrating in Louisiana. This definitely reminds me of The Vampire Diaries and The Originals TV series. With the Italian brothers,
Niccolo and Gabriel, how can I not compare them to the Salvatore brothers.
The novel is enthralling and the world building is captivating. I enjoyed the descriptive prose but the slight love triangle/square was a little off putting. The devastation of Hurricane Katrina is real and it's interesting to see it being portrayed in YA literature.
The Casquette Girls
is definitely a page-turner.
The Casquette Girls
would be a good novel for my students to immerse themselves in both worlds of fantasy and historical fiction. There is enough magic and action to encourage readers to give historical fiction a chance. Because Hurricane Katrina occurred fairly recently, readers can sympathize with the aftermath of the traumatic and life changing event.