This past week has definitely been a week full of fabulous cover reveals for spring and summer MG and YA novels. I am looking forward to the new year full of wonderful books and I am hoping the novels live up to their names, synopsis and gorgeous cover art.
Epic Reads
surprised the world with a
STUNNING
cover for
Ruined
by Amy Tintera on Tuesday. I enjoyed reading the dystopian
Reboot
by Miss Tintera and I am quite interested about how Tintera handles fantasy.
Title:
Ruined
Author:
Amy Tintera
Publisher:
HarperTeen
Publication date:
May 3, 2016
Synopsis (from goodreads):
A revenge that will consume her.

A love that will ruin her.

Emelina Flores has nothing. Her home in Ruina has been ravaged by war. She lacks the powers of her fellow Ruined. Worst of all, she witnessed her parents' brutal murders and watched helplessly as her sister, Olivia, was kidnapped.

But because Em has nothing, she has nothing to lose. Driven by a blind desire for revenge, Em sets off on a dangerous journey to the enemy kingdom of Lera. Somewhere within Lera's borders, Em hopes to find Olivia. But in order to find her, Em must infiltrate the royal family.

In a brilliant, elaborate plan of deception and murder, Em marries Prince Casimir, next in line to take Lera's throne. If anyone in Lera discovers Em is not Casimir's true betrothed, Em will be executed on the spot. But it's the only way to salvage Em's kingdom and what is left of her family.

Em is determined to succeed, but the closer she gets to the prince, the more she questions her mission. Em's rage-filled heart begins to soften. But with her life—and her family—on the line, love could be Em's deadliest mistake.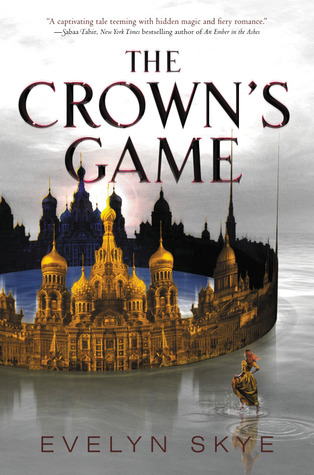 Epic Reads
revealed the cover for
The Crown's Game
by Evelyn Skye on Wednesday. I am very intrigued about this cover. It definitely screams fantasy and it borderlines a cover design for an Adult fantasy novel. The palace made into a crown is an interesting take.
Title:
The Crown's Game
Author:
Evelyn Skye
Publisher:
Balzer + Bray
Publication date:
May 17, 2016
Synopsis (from goodreads):

Vika Andreyev can summon the snow and turn ash into gold. Nikolai Karimov can see through walls and conjure bridges out of thin air. They are enchanters—the only two in Russia—and with the Ottoman Empire and the Kazakhs threatening, the Tsar needs a powerful enchanter by his side.

And so he initiates the Crown's Game, an ancient duel of magical skill—the greatest test an enchanter will ever know. The victor becomes the Imperial Enchanter and the Tsar's most respected adviser. The defeated is sentenced to death.

Raised on tiny Ovchinin Island her whole life, Vika is eager for the chance to show off her talent in the grand capital of Saint Petersburg. But can she kill another enchanter—even when his magic calls to her like nothing else ever has?

For Nikolai, an orphan, the Crown's Game is the chance of a lifetime. But his deadly opponent is a force to be reckoned with—beautiful, whip smart, imaginative—and he can't stop thinking about her.

And when Pasha, Nikolai's best friend and heir to the throne, also starts to fall for the mysterious enchantress, Nikolai must defeat the girl they both love . . . or be killed himself.

As long-buried secrets emerge, threatening the future of the empire, it becomes dangerously clear . . . the Crown's Game is not one to lose.
Also on Wednesday,
Hypable
revealed the cover for the upcoming
The School For Good and Evil: Ever Never Handbook
by Soman Chainani.
The cover art definitely has a handbook like look to it. The frame makes the cover look like an old fairy tale book along with the leather like texture in the background.
Title:
The School For Good and Evil: Ever Never Handbook
Author:
Soman Chainani
Publisher:
HarperCollins
Publication date:
July 19, 2016
Synopsis (from goodreads):

Every four years, two Reader children are kidnapped and brought to the School for Good and Evil to be trained for a life in a fairy tale. There, Evers and Nevers take courses in Animal Communication and Uglification, among others. The highest ranked students become the heroes and villains of the fairy tales — while the lowest, well, we don't want to talk about what becomes of them.

This handbook contains the scoop students need in order to get to the top of their class — the fairy tales you need to know, the myths it's dangerous not to know, spells you won't live without, Who's Who and What's What, and much more. And of course, it's all in glorious color because in the School for Good and Evil, nothing is black and white.