Typography Talk is an original feature where I discuss about book cover design and typography. Even though people always say that you shouldn't judge a book by its cover, you know everyone does. A book's cover art needs to captivate the potential reader. There are some readers who will be more inclined to purchase a book not only based on the synopsis, but also based on how the cover looks like. Colors, typeface, medium, spacing and originality are all factors that help make up a cover.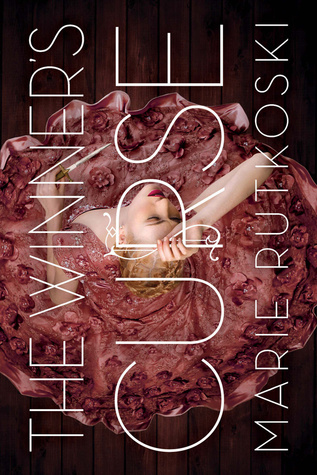 The Winner's Curse by Marie Rutkoski
is stunning not only in writing but the cover art is gorgeous. The colors are tones of brown, rose and mauve and the type treatment is perfect. The artist opted to do a girl in a beautiful dress for the cover.
Without reading the book, it is assumed the girl is the main character of the book. I love how Kestrel is holding the R of Curse. The cover artist incorporated the type with the image as if they are one.
The type being rotated at a 90 degree angle is a nice touch as well. It makes the book unique and I love the sans-serif justified type.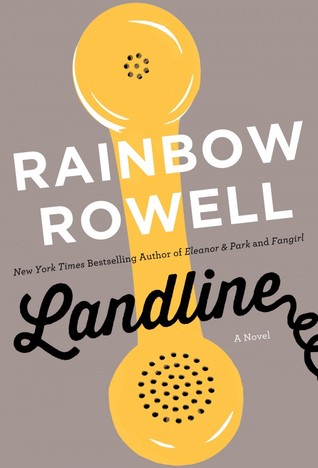 Landline by Rainbow Rowell
has a simple cover. The title is in a more decorative typeface and I
Landline
. The spine is gorgeous too. I would not expect the pink at all but the pink stripes works well with the overall packaging of the novel.
love how the cover artist incorporates a telephone coil at the end of
The magical yellow telephone is the focal piece of the cover which makes sense since it plays a huge part in the plot of the novel. The neutral colored background makes the yellow phone pop out more.
Keeping the author's name in a simple sans-serif font in white shows nice contrast with the black hand-lettering of the title.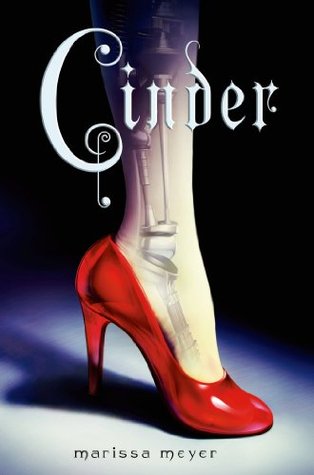 Cinder by Marissa Meyer
has a ravishing cover design. The decorative typeface is whimsical and the bright white pops against the dark background. I like the slight 3-dimensional look of the title as well.
The red high heel is the focal piece of the cover. Your eyes focus on the shoe and then to the leg. The artist did an excellent job hinting
Cinder
is a Cinderella retelling with the main character being a cyborg. The spotlight on the leg and heel indicates Cinder is the main character in the novel. The ombre gradient of black to blue to a faded white draws more focus on the shoe.
I love how Meyer's name is in a subtle decorative typeface in the spotlight. It doesn't distract the reader's eyes from the title or the heel.