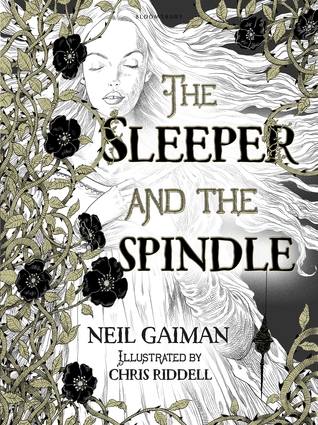 Title:
The Sleeper and the Spindle
Author:
Neil Gaiman, Chris Riddell (illustrator)
Publisher:
HarperCollins
Publication date:
September 22, 2015 (first published on May 3rd 2014)
Pages:
69
Source/format:
Library // Hardcover
Rating:
☆☆☆
☆

1/2
Synopsis (from Goodreads.com):

It was the closest kingdom to the queen's, as the crow flies, but not even the crows flew it.

You may think you know this story. There's a young queen, about to be married. There are some good, brave, hardy dwarfs; a castle, shrouded in thorns; and a princess, cursed by a witch, so rumor has it, to sleep forever.

But no one is waiting for a noble prince to appear on his trusty steed here. This fairy tale is spun with a thread of dark magic, which twists and turns and glints and shines. A queen might just prove herself a hero, if a princess needs rescuing….
My Thoughts

Neil Gaiman works his magic and intertwines Snow White and Sleeping Beauty into one enchanting contemporary tale. A sleeping curse is creeping around the kingdom as roses start to bloom around the castle protecting it. Snow White is strong and reminds me of the Snow that is depicted in the TV show Once Upon a Time. Those who sleep in the kingdom are known as sleepers. Instead of the seven dwarfs, there are only three. I do not want to spoil the retelling but let me tell you that it is a MUST read.

Chris Riddell creates such strong imagery through his ink illustrations that bring the story to life. The duo of Gaiman and Riddell create a dark thrilling twist to two well known fairy tales. Gaiman shocks his readers with twists and turns while Riddell captivates his readers with his whimsical yet beautiful illustrations. The fine ink work of the illustrations are remarkable and so intricate. The black and white illustrations with the occasional gold frame, gold thorns and gold vines on the drop cap make the book so much more special. I love the contrast between light and dark. Riddell uses negative and positive areas to his advantage. Gaiman weaves dark threads of horror into what seems to be an innocent mashup of Snow White and Sleeping Beauty. The mysterious yet eerie narration leads to something more than meets the eye. It may be a bit morbid for some but I ate it up.
That ending! I did not see it coming but it was perfect! There is not a prince in sight to save the princess. The women are in control in this retelling and I am devouring this story up. I absolutely love this retelling and I highly recommend it to those who are looking for a dark yet twisted version of Snow White and Sleeping Beauty.