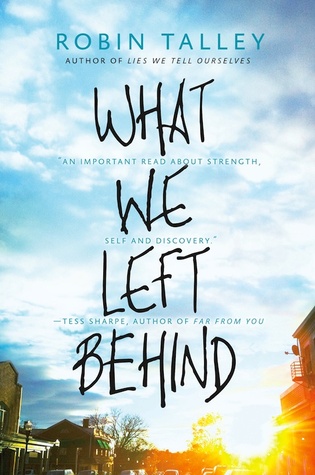 Title:
What We Left Behind
Author:
Robin Talley
Publisher:
Harlequin Teen
Publication date:
October 27, 2015
Pages:
416
Source/format:
ARC from Publisher
Rating:
☆☆
☆
Synopsis (from Goodreads.com):


From the critically acclaimed author of Lies We Tell Ourselves comes an emotional, empowering story of what happens when love isn't enough to conquer all.

Toni and Gretchen are the couple everyone envied in high school. They've been together forever. They never fight. They're deeply, hopelessly in love. When they separate for their first year at college—Toni to Harvard and Gretchen to NYU—they're sure they'll be fine. Where other long-distance relationships have fallen apart, their relationship will surely thrive.

The reality of being apart, however, is a lot different than they expected. As Toni, who identifies as genderqueer, falls in with a group of transgender upperclassmen and immediately finds a sense of belonging that has always been missing, Gretchen struggles to remember who she is outside their relationship.

While Toni worries that Gretchen, who is not trans, just won't understand what is going on, Gretchen begins to wonder where she fits in Toni's life. As distance and Toni's shifting gender identity begins to wear on their relationship, the couple must decide—have they grown apart for good, or is love enough to keep them together?

My Thoughts
Toni and Gretchen first met at Martha Jefferson Academy for Young Women and are together ever since they first met. Time fast forwards and the two are heading to college. Toni is Harvard bound and Gretchen is planning to attend Boston University until she got off the wait list for New York University. Gretchen has always wanted to attend NYU but is afraid to tell Toni about her change of schools. Although the couple is four hours apart from each other, they try to make things work.
Toni finds friends who accept her. Not only does Toni learn about who she is and who she wants to be, but she feels comfortable in her new atmosphere. I don't know too much about genderqueer related topics but I am learning a lot from
What We Left Behind
. What I do like about
What We Left Behind
is the sexual and racial diversity. Most people are not educated about different terms and what the terms actually mean. We live in a progressive society and it is important for everyone to learn exactly what terms like genderqueer, intersex and non-binary mean. It helps everyone becomes more aware of others. A lot of people shun ideas and things they don't know about. By educating people, there is less confusion and more acceptance of others. Gender is more than just being male and female. It's about what you identify with.
The novel alternates between Toni's and Gretchen's POVs. However, I feel like the novel has an emphasis on Toni's journey. College is where one finds oneself and this is actually what Toni and Gretchen are doing. They are learning who they are. This coming-of-age story is eye opening to many issues most college students do not deal with daily. It is important that not only Toni and Gretchen have to live with the normal stressers in college, they also have to learn to accept who they are.
Although I like the premise of this novel, I feel like it falls short compared to Talley's debut,
Lies We've Tell Ourselves
. There is a lot of info-dumping, especially with the terminology, and the novel doesn't flow as smoothly as I would like it to. I would have liked to see the terminology being woven into the story in a less choppy manner. Instead of cementing a good relationship with Gretchen, who is totally open to pretty much everything, Toni is so obsessed with pronouns throughout the whole book. It is rather annoying at times. Toni contradicts herself throughout the novel by saying she is genderqueer or gender nonconforming and how she didn't like using labels. However, she judges each person she meets and tries to put them in a category. Nance even points it out to Toni. Also, so many people in the novel keep asking whether Toni is a freshman or not. Half the time in college, you cannot tell if someone is a freshman or sophomore. In high school you might be able to tell if someone is a freshman but it is definitely harder to depict different grade standings in college. I feel so bad for Gretchen because she keeps reaching out to Toni to talk or to meet up and Toni always cancels on Gretchen or says that she is too busy. I understand Toni is trying to figure out her life but it's not fair to keep Gretchen hanging like that.