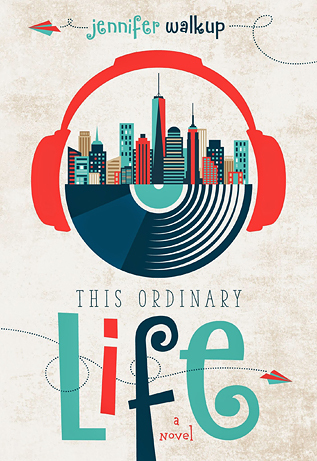 Title:
This Ordinary Life
Author:
Jennifer Walkup
Publisher:
Luminis Books, Inc.
Publication date:
October 1, 2015
Pages:
240
Source/format:
ARC from BEA 2015
Rating:
☆☆☆
☆
☆
Synopsis (from Goodreads.com):

Sometimes Hope is the Most Extraordinary Gift of All.

High-school radio host Jasmine Torres's life is full of family dysfunction, but if she can score the internship of her dreams with a New York City radio station, she knows she can turn things around.

That is, until her brother Danny's latest seizure forces her to miss the interview, and she's back to the endless loop of missing school for his doctor appointments, picking up the pieces of her mother's booze-soaked life, and stressing about Danny's future.

Then she meets Wes. He's the perfect combination of smart, cute, and funny. He also happens to have epilepsy like her brother. Wes is living a normal life despite his medical issues, which gives Jasmine hope for Danny. But memories of her cheating ex-boyfriend keep her from going on a real date with Wes, no matter how many times he asks her.

Jasmine can't control everything. Not who wins the internship, not her mother's addiction, not her brother's health--not even where her heart will lead her. She wishes she could just have an ordinary life, but maybe what she already has is pretty extraordinary after all.
My Thoughts
Jasmine Torres is a radio host at Easton High and her dream is to score an internship at WYN60 in order to help her chances to get into a good college majoring in communications. The only thing setting her back is her alcoholic mother and her younger brother who has epilepsy. She will do anything for her brother, Danny, but she is upset her mother isn't pulling her weight.
Every cloud has a silver lining. Although Danny's seizures prevent Jasmine from being in school, Jasmine ends up meeting Wes, aka Comic Book Boy, who also has epilepsy. Due to her cheating ex-boyfriend, Jasmine is afraid to commit to a relationship and becomes friends with Wes.
Jennifer Walkup writes a touching coming-of-age story with emotions that covers a range of different topics. This contemporary read is uplifting. When Jasmine meets Wes, little did she know that he is the perfect guy for her. From the moment he called her Sunny and is always asking how she is doing and how Danny is doing, he has been lovestuck from the start. Although, Wes wants to be more than friends and Jasmine makes it clear that they are only friends, Wes is patient enough to wait until Jasmine is ready to open up about her feelings for him. I love Wes! Everything about him is pretty much perfect.
I love Jasmine's personality. She is independent, cares about her family and friends and can be sarcastic at times. I enjoy the texts between Jasmine and Wes and how she playfully teases him. I love how Walkup formats Jasmine's thoughts as if Jasmine is on air doing a broadcast.
This Ordinary Life
is definitely an adorable read. Despite the hard life that Jasmine has to juggle, there is light at the end of the tunnel. When times are hard, there is someone always there to brighten up her day. If you are looking for a heartfelt read, definitely pick up
This Ordinary Life
.