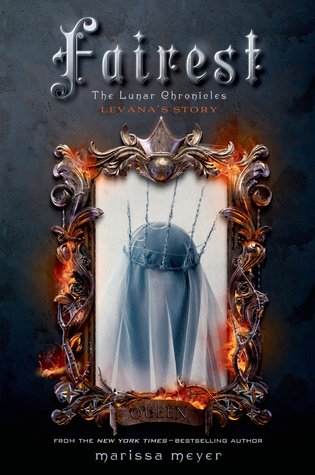 Title:
Fairest
Author:
Marissa Meyer
Publisher:
Feiwel and Friends
Publication date:
January 27, 2015
Pages:
222
Source/format:
Library/Hardcover
Rating:
☆☆☆
☆
1/2
Synopsis (from goodreads):

In this stunning bridge book between Cress and Winter in the bestselling Lunar Chronicles, Queen Levana's story is finally told.

Mirror, mirror on the wall,
Who is the fairest of them all?

Fans of the Lunar Chronicles know Queen Levana as a ruler who uses her "glamour" to gain power. But long before she crossed paths with Cinder, Scarlet, and Cress, Levana lived a very different story – a story that has never been told . . . until now.

Marissa Meyer spins yet another unforgettable tale about love and war, deceit and death. This extraordinary book includes full-color art and an excerpt from Winter, the next book in the Lunar Chronicles series.


My Thoughts:
I love reading about Levana Blackburn's back story and more about the city of Artemisia. Reading more about how she became the woman she is today is quite fascinating. Finding out why she has an extreme hatred for shells and why she has extreme jealous is interesting as well. Channary was cold and manipulative. She only cared for herself and her personality definitely started rubbing off onto Levana.
Image from buzzfeed.com
To find out Levana had once loved someone who didn't love her back the same way makes me sympathize with her. Levana only wanted to be accepted and loved by someone. Villians aren't born villains. They are somehow molded into villains because of past experiences. People shunning them or not accepting them how they are turn their hearts black. They eat up their emotions and lash out at others. It doesn't help that Levana is envious of others.
Image from tumblr.com
While reading
Fairest
, it reminds me of the TV show Once Upon a Time. You can see how some of the villains lash out and want what is "rightfully" theirs. It's because of their upbringing. I find it interesting how Channary reminds me of Snow's mother and how Levana remind me of Regina with a dash of Cora. Many characters in
Fairest
also correlate with characters in Once Upon a Time. I am loving the similarities.
Image from gifwave.com
I found it ironic how Selene's nursery was set on fire. Levana is scared of fire and Channary taunted Levana with fire throughout her life. Reading about how all the fairytales are intertwined is interesting. I didn't know too much about Winter and I love how
Fairest
is the book that precedes
Winter
. It make the transition from
Cress
to
Winter
easier. It's more fluid.
One thing I disliked about the novella was the lack of chapters. Sure, there are breaks throughout the novella but I would love to see numbered chapters and chapters starting on it's own separate pages. Overall, I enjoyed reading
Fairest
.
Cinder
is still my favorite in the
Lunar Chronicles series
but
Fairest
is a close second.