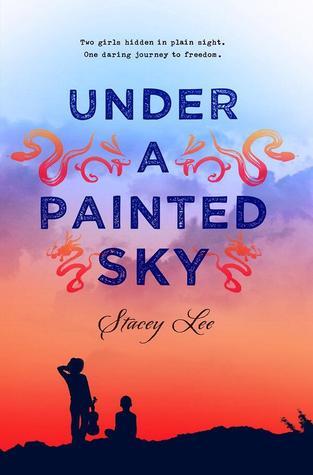 Title:
Under a Painted Sky
Author:
Stacey Lee
Publisher:
G.P. Putnam's Sons Books for Young Readers
Publication date:
March 17, 2015
Pages:
384
Source/format:
e-ARC from Netgalley
Rating:
☆☆☆
☆
☆
Synopsis (from goodreads.com):

A powerful story of friendship and sacrifice, for fans of Code Name Verity

Missouri, 1849: Samantha dreams of moving back to New York to be a professional musician—not an easy thing if you're a girl, and harder still if you're Chinese. But a tragic accident dashes any hopes of fulfilling her dream, and instead, leaves her fearing for her life. With the help of a runaway slave named Annamae, Samantha flees town for the unknown frontier. But life on the Oregon Trail is unsafe for two girls, so they disguise themselves as Sammy and Andy, two boys headed for the California gold rush. Sammy and Andy forge a powerful bond as they each search for a link to their past, and struggle to avoid any unwanted attention. But when they cross paths with a band of cowboys, the light-hearted troupe turn out to be unexpected allies. With the law closing in on them and new setbacks coming each day, the girls quickly learn that there are not many places to hide on the open trail.

This beautifully written debut is an exciting adventure and heart-wrenching survival tale. But above all else, it's a story about perseverance and trust that will restore your faith in the power of friendship.
My Thoughts:
I am not a big fan of westerns but this one works.
Under a Painted Sky
is historical fiction novel about two girls, Samantha and Annamae, traveling west of Missouri on the Oregon trail. Samantha and Annamae run for their lives after an accidental murder. Being a girl, especially one of color, is hard in the mid-1800's so the girls disguise themselves as boys with the names Sammy and Andy. Sammy is looking for her father's friend, Mr. Trask, who is traveling to California. Andy is looking for her brother.
I enjoy following their journey and I love the character development in this novel. Sammy and Andy end up meeting Cay, West and Peety along their way on the Oregon Trail. They all become family and will do anything to save each others' lives. There were several instances where I thought someone was going to die or the girls were going to be caught for running away. Stacey Lee weaves music, friendship, family, tradition, romance and history in
Under a Painted Sky
. Her writing is absolutely beautiful. She definitely paints images with her words. I seriously had tears of happiness after reading the novel.
Under a Painted Sky
is definitely one of my favorite reads of the year.
Can I say that the cover art is absolutely stunning! The silhouettes of Sammy and Andy look fantastic against the gorgeous painted sky. Also, the squiggles around the title is actually Chinese zodiac animals. These animals correlate with characters in the novel.
The character development in the book is excellent. I absolutely love the friendship and family values in the novel. I love how the girls encountered Cay, West and Peety. All five of them make a great team. At first Sammy doesn't click well with West but after awhile she grows very fond of him. I was sad when she lost her dad and Lady Tin Yin. Thank goodness Andy is with her during the trip to the west. I don't think Sammy would have survived without Andy. The two girls bond and stay strong while they travel with the guys. Sometimes friendship matures into family. And sometimes family is more than blood. What I love is the diversity within the group. The cultural differences and childhood upbringings help create a bond between the five. The knowledge each one has contributes to their survival.
I highly recommend this book if you like historical fiction and/or are interested in a coming-of-age story about friendship and survival.