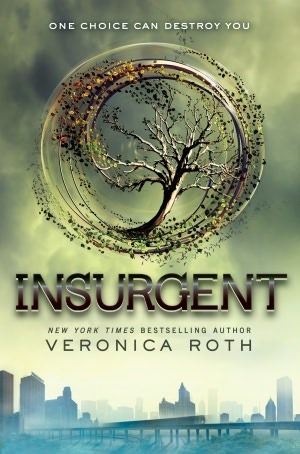 Title:
Insurgent
Author:
Veronica Roth
Publisher:
HarperCollins Children's Books
Publication date:
May 1, 2012
Pages:
525
Source/format:
Purchased/Hardcover
Rating:
☆☆☆
☆
Synopsis (from goodreads.com):

Insurgent is a 2012 science fiction young adult novel by American novelist Veronica Roth, the second book in the Divergent trilogy. As the sequel to the 2011 bestseller Divergent, it continues the story of Tris Prior and the dystopian post-apocalyptic version of Chicago. Following the events of the previous novel, a war now looms as conflict between the factions and their ideologies grows. While trying to save the people that she loves, Tris faces questions of grief, forgiveness, identity, loyalty, politics, and love.

The book was first published on May 1, 2012 by the HarperCollins imprints Katherine Tegen Books in the U.S. and HarperCollins Children's Books in the U.K, a "Collector's Edition" was published on October 30 in the United States. Insurgent received mostly positive reviews from critics, with reviewers praising Roth's writing.
My Thoughts:
I wanted to reread
Insurgent
before the film adaptation comes out on March 20th. The first time I read it was in 2012. I was fortunate enough to meet Veronica Roth back in 2012 at Ascendio, a Harry Potter convention located in Orlando, Florida. It's crazy how extremely popular she has become over a few years.
Roth does an excellent job with the world building in the Divergent series.
Insurgent
starts right where
Divergent
left off. However, it is a slower paced book than
Divergent
but it doesn't mean that it's bad. I actually liked how Tris and Tobias travel through multiple factions. I enjoyed learning more about each faction's values and customs. We've only heard mostly about Dauntless in
Divergent
with a smattering of Erudite and Abnegation.
Insurgent
goes into depth about the leaders of the factions and gives hints to what some of the initiation trial tasks are. Reading about faction members transferring into other factions is quite interesting. To hear why they transferred to other factions intrigues me the most. There is wide variety of reasons why one will transfer to another faction instead of staying in his/her own faction.
Insurgent
dives deeper under the surface compared to
Divergent
. We find out about secrets that characters have been hiding from their friends, families and loved ones.
Insurgent
plays with the characters emotions. The reader feels the anger, the betrayal, the regret, the grief and the love
Insurgent
has to offer. The novel is more complex and is darker than the first in the series.
Tris is haunted by her decisions she made in the past. However, she knows she needs to keep moving forward to protect herself, her faction and her loved ones. Time is ticking and Tris is desperate to find out what her parents were protecting. Can we trust each faction? Will they betray Tris and her friends?
If you enjoyed reading
Divergent
, you will love
Insurgent
.