Can I say this week has been an
AMAZING
cover reveal week? All of the covers are absolutely
stunning
and I cannot wait to get my hands on following books to see the
beautiful
covers in person. Of course the books won't be released for awhile but I can't contain my excitement!
Image from twitter.com/josieangelini
Title:
Fire Walker
Author:
Josephine Angelini
Publisher:
Feiwel & Friends
Publication date:
September 1, 2015
Synopsis (from Goodreads):

Worlds divide, magic slays, and love lies in the second book of Josephine Angelini's The Worldwalker Trilogy.

"You think I'm a monster, but my choices, as ruthless as they seem, are justified."

Lily is back in her own universe, and she's ready to start a new life with Rowan by her side. True, she almost died in the Pyre that fueled their escape from New Salem, and must hide her magic for the safety of everyone she cares about, but compared to fighting the Woven, the monstrous creatures inhabiting the alternate Salem, life is looking pretty good.

Unfortunately, Lillian, ruthless ruler of the 13 Cities, is not willing to let Lily go that easily. If she can't persuade Lily to return to her world, she will force her to come back by doing away with the ones she loves.

Picking up right where Trial By Fire left off, Firewalker is another sexy, fast-paced, heartbreaking thrill ride from internationally bestselling author Josephine Angelini!

These covers are pretty amazing. The Trial by Fire cover has been redesigned. As of now, I am not sure if it's just for the paperback or if it's for the paperback and the hardcover versions. I love the redesign and I love the Fire Walker cover design. They are electrifying and gorgeous!
Title:
The Rose Society
Author:
Marie Lu
Publisher:
G.P. Putnam's Sons Books for Young Readers
Publication date:
October 6, 2015
Synopsis (from Goodreads):

From New York Times bestselling author Marie Lu comes the second book in the exhilarating Young Elites series

Once upon a time, a girl had a father, a prince, a society of friends. Then they betrayed her, and she destroyed them all.
Adelina Amouteru's heart has suffered at the hands of both family and friends, turning her down the bitter path of revenge. Now known and feared as the White Wolf, she and her sister flee Kenettra to find other Young Elites in the hopes of building her own army of allies. Her goal: to strike down the Inquisition Axis, the white-cloaked soldiers that murdered her love, the Crown Prince Enzo Valenciano.

But Adelina is no heroine. Her powers, fed only by fear and hate, have started to grow beyond her control. She does not trust her newfound Elite friends. Teren Santoro, leader of the Inquisition, wants her dead. And her former friends, Raffaele and the Dagger Society, want to stop her thirst for vengeance. Adelina struggles to cling to the good within her. But how can someone be good, when her very existence depends on darkness?

I love this cover design more than The Young Elites cover. It's more mysterious and I love how the wolf is on the cover. Very Adelina-like!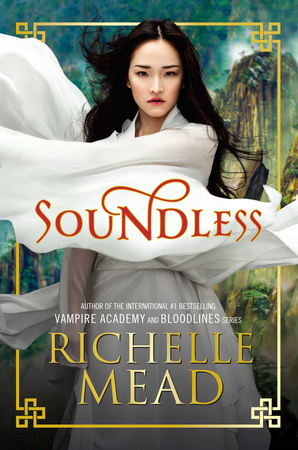 Title:
Soundless
Author:
Richelle Mead
Publisher:
Razorbill
Publication date:
November 17, 2015
Pages:
368
Synopsis (from Goodreads):

From Richelle Mead, the #1 internationally bestselling author of Vampire Academy and Bloodlines, comes a breathtaking new fantasy steeped in Chinese folklore.

For as long as Fei can remember, there has been no sound in her village, where rocky terrain and frequent avalanches prevent residents from self-sustaining. Fei and her people are at the mercy of a zipline that carries food up the treacherous cliffs from Beiguo, a mysterious faraway kingdom.

When villagers begin to lose their sight, deliveries from the zipline shrink and many go hungry. Fei's home, the people she loves, and her entire existence is plunged into crisis, under threat of darkness and starvation.

But soon Fei is awoken in the night by a searing noise, and sound becomes her weapon.

Richelle Mead takes readers on a triumphant journey from the peak of Fei's jagged mountain village to the valley of Beiugo, where a startling truth and an unlikely romance will change her life forever...

The cover design to this book is STRIKING! I am very intrigued and I cannot wait to read this standalone!


Title:
Wandering Star
Author:
Romina Russell
Publisher:
Razorbill
Publication date:
December 2015
Synopsis and exact date are not provided by Goodreads at this time but how gorgeous is this cover?

I love the gradient of vibrant colors. I assume the horoscopes like Taurus will play a big part in the plot of the novel.


The Mortal Instruments UK books will have new covers! I love the new cover redesigns for all six of the books in the series. I need to get my hands on them when they hit the shelves in the UK! Thank goodness for Book Depository.
The release date is scheduled for July 2015.
For more information about the new covers, check out the Female First website.
The website mentioned how "each of the six titles in the series features gorgeous cover illustrations by Mila Furstova, the artist who created the album artwork for Coldplay's Ghost Stories."