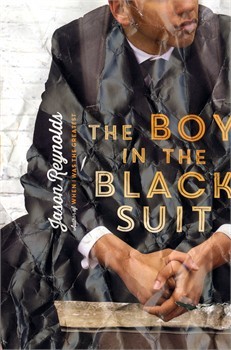 Title:
The Boy in the Black Suit
Author:
Jason Reynolds
Publisher:
Atheneum Books for Young Readers
Publication date:
January 6, 2015
Pages:
272
Source/format:
Library/Hardcover
Rating:
☆☆☆
☆
1/2
Synopsis (from goodreads.com):

Just when seventeen-year-old Matt thinks he can't handle one more piece of terrible news, he meets a girl who's dealt with a lot more—and who just might be able to clue him in on how to rise up when life keeps knocking him down—in this wry, gritty novel from the author of When I Was the Greatest.

Matt wears a black suit every day. No, not because his mom died—although she did, and it sucks. But he wears the suit for his gig at the local funeral home, which pays way better than the Cluck Bucket, and he needs the income since his dad can't handle the bills (or anything, really) on his own. So while Dad's snagging bottles of whiskey, Matt's snagging fifteen bucks an hour. Not bad. But everything else? Not good. Then Matt meets Lovey. She's got a crazy name, and she's been through more crazy than he can imagine. Yet Lovey never cries. She's tough. Really tough. Tough in the way Matt wishes he could be. Which is maybe why he's drawn to her, and definitely why he can't seem to shake her. Because there's nothing more hopeful than finding a person who understands your loneliness—and who can maybe even help take it away.
My Thoughts:
Matthew Miller is in his senior year. He just lost her mother and his father hits the bottle daily. Matt does well in school and leaves at noon everyday to do a work study job. Mr. Ray offers him a position and it's at the last place anyone expects Matt to work at. Matt dresses in his black suit for his job at a funeral home. It's better than working at the Cluck Bucket. In fact, Matt enjoys attending funerals. Everyone copes with death in different ways.
The male POV is compelling. I love the voice of Matt and I love how genuine he is.
The Boy in the Black Suit
is definitely a book I recommend my students to read. Jason Reynolds does an amazing job with creating a novel that is relatable. Reynolds tells how an urban city really is. He doesn't sugarcoat anything which I like. Reynolds writes with honesty. He tells it how it is. The emotions are conveyed throughout the novel extremely well. I feel like I am with Matt when he talks about his life.
Mr. Ray is more than his neighbor or his boss. He becomes sort of a uncle to Matt. Mr. Ray is one of my favorite characters in the book and I would love to know about him. Lovey is somewhat different than Matt. I was surprised that Matt actually meet Lovey earlier on in the book but he didn't know at the time. The pacing of the book is perfect. We see how Matt is coping with her mother's death before Lovey is introduced into the story. When Matt has learned to cope with death, there is a bright light at the end of the hallway. Life to something new. Life to a new beginning. Life is too short to dwell on. Matt realizes he needs to enjoy his life to the fullest. And with Lovey, he lives life.
The relationship between Matt and Lovey is something special. Because both Matt and Lovey have lost their mothers, they understand what it means to have loss. They both understand what it means to live. Both of them are like Sempervivum. They won't live forever but they are the strongest. They know how valuable life is and will cherish it. They will make it through good and bad times and it's because they know about what it means to live.
I love the typography for this novel. The text treatment is well done and I love the text gradient for the cover art. Most books don't focus on the typography. The focal point is usually the central image of the cover art. Everyone raves about how beautiful the cover design is. However, I think it's important to incorporate typography as well. In a later post, I will talk about some of my favorite cover designs.
Overall if you are looking for a contemporary about grief, young love and a collection of recipes titled
THE SECRET TO GETTING GIRLS, FOR MATTY
, definitely check
The Boy in the Black Suit
.