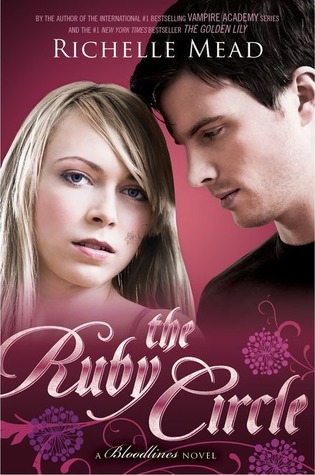 Title:
The Ruby Circle
Author:
Richelle Mead
Publisher:
Razorbill
Publication date:
February 10, 2015
Pages:
348
Source/format:
Purchased/Hardcover
Rating:
☆☆☆
☆
☆
Synopsis (from goodreads):

Sydney Sage is an Alchemist, one of a group of humans who dabble in magic and serve to bridge the worlds of humans and vampires. They protect vampire secrets—and human lives.

After their secret romance is exposed, Sydney and Adrian find themselves facing the wrath of both the Alchemists and the Moroi in this electrifying conclusion to Richelle Mead's New York Times bestselling Bloodlines series. When the life of someone they both love is put on the line, Sydney risks everything to hunt down a deadly former nemesis. Meanwhile, Adrian becomes enmeshed in a puzzle that could hold the key to a shocking secret about spirit magic, a secret that could shake the entire Moroi world.
My Thoughts:
"I could no longer imagine a life without him in it. It was impossible."
- Sydney, page 20
The Ruby Circle
starts right where
The Silver Shadows
left off. Sydney and Adrian are a married couple and are living at the Court under Lissa's protection. Although they are safe from the Alchemists, many Moroi look down upon Adrian's relationship with Sydney.
Jill, Lissa's sister, is still missing. Someone kidnapped Jill and left no trace of the abduction. However, Ms. Terwilliger pays a visit and delivers a magic box with a clue to Jill's whereabouts. Sydney goes with Ms. Terwilliger to find Jill. Sydney risks being caught by the Alchemists in order to seek out the enemy who has Jill. She actually had a couple close run ins with Alchemists but was able to strike a deal with Stanton.
This is one of my all time favorite series so I wanted to relish reading the last book as long as I can. Sydney and Adrian is possibly one of my favorite bookish couples of all time. They are perfect for each other. Although,
The Ruby Circle
is not my favorite book in the series, it is a close second.
Silver Shadows
is my favorite.
The Ruby Circle
is definitely the closure I need for the series.
Sydney and Adrian forever. I love how the book ends with "Always." This totally reminds me of Snape and Lily.
Always and forever!
If you're a fan of the
Vampire Academy series
, paranormal fantasy and/or urban fantasy, definitely check out
The Ruby Circle
and the rest of the
Bloodlines series
.