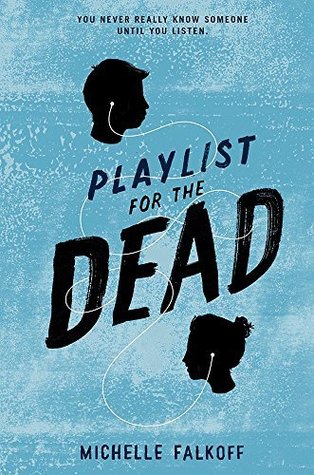 Title:
Playlist for the Dead
Author:
Michelle Falkoff
Publisher:
Harper Teen
Publication date:
January 27, 2015
Pages:
288
Source/format:
Library/Hardcover
Rating:
☆☆☆
☆
☆
Synopsis (from goodreads):

A teenage boy tries to understand his best friend's suicide by listening to the playlist of songs he left behind in this smart, voice-driven debut novel.

Here's what Sam knows: There was a party. There was a fight. The next morning, his best friend, Hayden, was dead. And all he left Sam was a playlist of songs, and a suicide note: For Sam—listen and you'll understand.

As he listens to song after song, Sam tries to face up to what happened the night Hayden killed himself. But it's only by taking out his earbuds and opening his eyes to the people around him that he will finally be able to piece together his best friend's story. And maybe have a chance to change his own.

Part mystery, part love story, and part coming-of-age tale in the vein of Stephen Chbosky's The Perks of Being a Wallflower and Tim Tharp's The Spectacular Now, Playlist for the Dead is an honest and gut-wrenching first novel about loss, rage, what it feels like to outgrow a friendship that's always defined you—and the struggle to redefine yourself. But above all, it's about finding hope when hope seems like the hardest thing to find.
My Thoughts:
The novel starts right when Sam Goldsmith finds his best friend Hayden Stevens lying down, not moving and definitely not snoring. He puts two and two together that Hayden committed suicide with a bottle of vodka and a bottle of pills. Hayden left behind a note and a thumb drive for Sam. The story and the journey Sam takes after Hayden passes reminds of
The Perks of Being a Wallflower.
Both Sam and Charlie looses someone close to them and they both try to figure what to do with their life afterwards. Sam becomes good friends with Astrid and Eric while Charlie becomes good friends with Sam and Patrick. Sam and Charlie have an older sister. Eric and Patrick are both gay. However, the note and the playlist remind me of Anna in
As Simple as Snow
. Anna goes missing and there is a trail of clues through messages and a dress on the ice. Although the premises of all three books are different, they have a similar coming-of-age feel to them.
The indie tone the book has is amazing. It reminds me of my teenager years when I first read
The Perks of Being a Wallflower
. It gives me a nostalgic feeling about being finding yourself. I love how there are flashbacks with Sam and Hayden. I am definitely a fan of how Sam and Hayden bond over music, gaming and random geeky stuff. Michelle Falkoff is innovative by using a song from the playlist for each chapter title. The playlist is a fantastic mix of songs. Each song is perfect for each chapter and I actually had a Spotify playlist playing when I was reading. The music helped set the mood and helped me be immersed into the whole story. It gave me the chills. It gave me the full lyrical experience. I felt like I was reading a
The Perks of Being a Wallflower
in an alternate universe. I see many parallels but Falkoff makes the novel her own. Pick up this book and listen to the playlist.