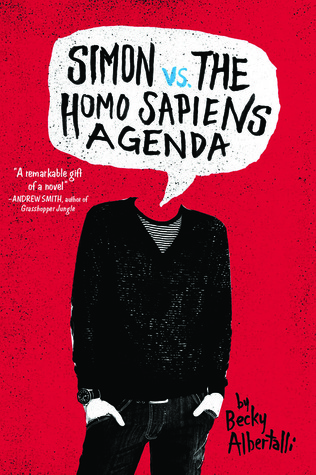 Title:
Simon vs. The Homo Sapiens Agenda
Author:
Becky Albertalli
Publisher:
Balzer + Bray
Publication date:
April 7, 2015
Pages:
303
Source/format:
Library/Hardcover
Rating:
☆☆☆
☆
Synopsis (from Goodreads.com):

Sixteen-year-old and not-so-openly gay Simon Spier prefers to save his drama for the school musical. But when an email falls into the wrong hands, his secret is at risk of being thrust into the spotlight. Now Simon is actually being blackmailed: if he doesn't play wingman for class clown Martin, his sexual identity will become everyone's business. Worse, the privacy of Blue, the pen name of the boy he's been emailing, will be compromised.

With some messy dynamics emerging in his once tight-knit group of friends, and his email correspondence with Blue growing more flirtatious every day, Simon's junior year has suddenly gotten all kinds of complicated. Now, change-averse Simon has to find a way to step out of his comfort zone before he's pushed out—without alienating his friends, compromising himself, or fumbling a shot at happiness with the most confusing, adorable guy he's never met.
My Thoughts:
Simon Vs. the Homo Sapiens Agenda
is a coming-of-age story about Simon Spirer. Simon is so close of getting blackmailed by Martin Addison. Of course Martin wants something in exchange so he won't out Simon and Blue to the whole entire world. Shady Creek, Georgia isn't what you will call a progressive town. I enjoyed reading
Simon vs. The Homo Sapiens Agenda
. Becky Albertalli writes in a honest voice. She conveys Simon's family life, school life and his secret life quite well.
I love how Albertalli alternates certain chapters with e-mails from Simon (aka Jacques) to Blue and from Blue to Simon. The e-mails between the two guys added something special to the book and I love how comfortable they feel talking to each other. Simon feels relaxed talking to Blue. He enjoys conversation about things other people don't understand with Blue. It's so cute how Simon squees about Blue throughout the novel. It's like the feeling of a first crush and you can't stop thinking about that crush. You get butterflies in your stomach and that person makes you smile. You get all giddy and excited for no apparent reason.
Throughout reading the
Simon Vs. the Homo Sapiens Agenda
, all I wanted was to eat waffles, Reese's Peanut Butter Cups and Oreos. I wanted to drink Oreo frappes (aka milk shakes) and watch reruns of Harry Potter. All the Harry Potter references are wonderful. I loved every single one of them. There is so much reference to pop culture besides Harry Potter. Adventure Time, Doctor Who and even Assassin's Creed make appearances. Books like
Fahrenheit 451
make an appearance.
Pocahontas
,
Aladdin
,
The Lion King
and
Beauty and the Beast
make appearances. I absolutely love it!
If you are looking for a cute contemporary read, pick up
Simon Vs. the Homo Sapiens Agenda.
Make sure you have a package of Oreos and a glass of milk near by. You won't regret it.