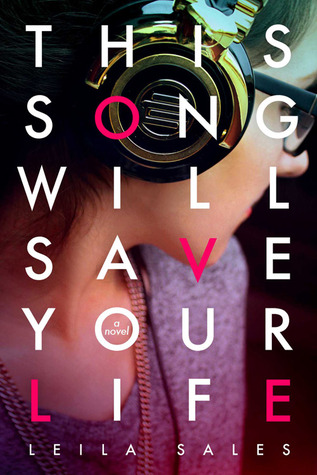 Title:
This Song Will Save Your Life
Author:
Leila Sales
Publisher:
Farrar, Straus and Giroux
Number of Pages:
279
Source/format:
Purchased/Hardcover
Rating:
☆☆☆
☆
☆
Synopsis (from goodreads.com):

Making friends has never been Elise Dembowski's strong suit. All throughout her life, she's been the butt of every joke and the outsider in every conversation. When a final attempt at popularity fails, Elise nearly gives up. Then she stumbles upon a warehouse party where she meets Vicky, a girl in a band who accepts her; Char, a cute, yet mysterious disc jockey; Pippa, a carefree spirit from England; and most importantly, a love for DJing.

Told in a refreshingly genuine and laugh-out-loud funny voice, This Song Will Save Your Life is an exuberant novel about identity, friendship, and the power of music to bring people together.


My Thoughts:
"I believe a person's taste in music tells you a lot about them. In some cases, it tells you everything you need to know."
This Song Will Save Your Life
is inspirational coming-of-age story about self-discovery. Elise Demboski of Glendale isn't popular and she doesn't fit in with the mainstream. She tries so desperately to change herself into someone she is not. However, one day she stumbles upon a music warehouse and that one action changes her life forever. She finally finds people who accept her as she is. She does not have to live a lie. Readers follow Elise's journey about what it means to live. Elise meets Vicki, Pippa and Char who become her friends outside of reality. Elise and her friends live flawed lives which makes them more human. It's realistic.
I enjoyed reading this compelling novel. Leila Sales captures the reality of high school which includes the cliques, the bullying, depression, etc. but also interlaces an underground music scene. I feel attached to the musical world Elise was thrown into. Music was a big deal during my high school years. I feel connected to music because words have power. It is a way to drown out reality and to connect with the lyrics and rhythm of a song. I believe Elise used music to escape reality but once she found a place of acceptance, she uses music and her DJing skills to lift other's spirits.
This Song Will Save Your Life
hit me hard. Although, I have not been bullied in high school, I was bullied when I was in elementary school. I know how it is not to fit in with the mainstream. Now, I know it's okay not to be like everyone else. It's okay to be who I am. Elise is realizing that very same thing. She is finding herself and finding the meaning of life. Throughout her whole life she thought she wanted to be popular. Start, the underground night club, gives her hope. Start gives her friends. Start gives her a life. Through music, Elise finds her voice. She finds her identity and she is happy.
This Song Will Save Your Life
is perfection!
"I hadn't wanted popularity. I had only wanted friends."