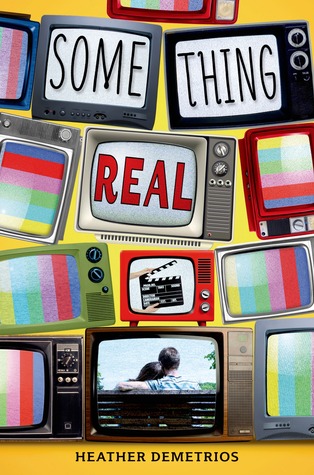 Title:
Something Real
Author:
Heather Demetrios
Publisher:
Henry Holt and Co.
Publication date:
February 4, 2014
Pages:
406
Source/format:
Purchased/Hardcover
Rating:
☆☆☆
☆
☆
Synopsis (from Goodreads.com):

Seventeen-year-old Bonnie™ Baker has grown up on TV—she and her twelve siblings are the stars of one-time hit reality show Baker's Dozen. Since the show's cancellation, Bonnie™ has tried to live a normal life, under the radar and out of the spotlight. But it's about to fall apart . . . because Baker's Dozen is going back on the air. Bonnie™'s mom and the show's producers won't let her quit and soon the life that she has so carefully built for herself, with real friends (and maybe even a real boyfriend), is in danger of being destroyed by the show. Bonnie™ needs to do something drastic if her life is ever going to be her own—even if it means being more exposed than ever before.

Heather Demetrios' Something Real is the winner of the Susan P. Bloom PEN New England Discovery Award.
My Thoughts:
Bonnie Baker is finally trying to live a normal life after being on a reality TV show for countless number of years. Under the name Chloe, no one knows she is Bonnie Baker. Things take a turn and a Bakers Dozen is going back on air and Chloe is furious. All she wants is live her own life how she wants to. How can she live her life when cameras are always following her recording every action and every word? She can't even call Patrick Sheldon in privacy.
Heather Demetrios wrote a fabulous book. Not only is the plot line unique but the characters make the book. At first it was hard to remember who is who, but I enjoyed reading the relationships between each Baker. Life for Chloe is a whirlwind. I feel bad for Chloe at times because MetaReel pretty much threatens her that if she doesn't comply to their every whim, it will be her fault for ruining things within her family. It's a lose, lose situation kind of deal.
I am glad her friends don't treat her different just because she is on TV. Tessa, Mer and Patrick are very supportive and are always checking in with Chloe to make sure she is okay. Chloe's brother Benton is also very supportive of her and he has similar feelings to how they are being exploited without permission. On the other hand, Chloe's mom doesn't care about Chloe's feelings. In fact it seems like she doesn't care about anybody's feelings but her own. Beth Baker only cares about herself and the publicity the show is giving the family. Does she care whether Chloe cares if a camera follows her pretty much 24/7? No. Does she care if Chloe can't hang out with her friends in peace? No. I absolutely love the ending. It's perfect. For all the things that Chloe had to put up with her whole entire life, the ending is probably one of my favorite parts of the novel besides the slow burning relationship between Chloe and Patrick.
I loved how Demetrios includes references to Harry Potter and
1984
within the novel. The comparison of
1984
's Big Brother to Bonnie's life right now is pretty on par. It's very similar to the Truman Show as well. I read
1984
and watched the Truman Show in my Junior English class in high school.
Something Real
would make a great addition to an English class which incorporates
1984
into their curriculum as well as an advertising unit.