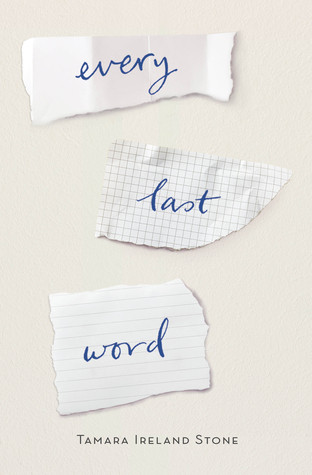 Title:
Every Last Word
Author:
Tamara Ireland Stone
Publisher:
Disney-Hyperion
Publication date:
June 16, 2015
Pages:
368
Source/format:
e-ARC provided by Netgalley
Rating:
☆☆☆
☆
☆
Synopsis (from Goodreads.com):

If you could read my mind, you wouldn't be smiling.

Samantha McAllister looks just like the rest of the popular girls in her junior class. But hidden beneath the straightened hair and expertly applied makeup is a secret that her friends would never understand: Sam has Purely-Obsessional OCD and is consumed by a stream of dark thoughts and worries that she can't turn off.

Second-guessing every move, thought, and word makes daily life a struggle, and it doesn't help that her lifelong friends will turn toxic at the first sign of a wrong outfit, wrong lunch, or wrong crush. Yet Sam knows she'd be truly crazy to leave the protection of the most popular girls in school. So when Sam meets Caroline, she has to keep her new friend with a refreshing sense of humor and no style a secret, right up there with Sam's weekly visits to her psychiatrist.

Caroline introduces Sam to Poet's Corner, a hidden room and a tight-knit group of misfits who have been ignored by the school at large. Sam is drawn to them immediately, especially a guitar-playing guy with a talent for verse, and starts to discover a whole new side of herself. Slowly, she begins to feel more "normal" than she ever has as part of the popular crowd . . . until she finds a new reason to question her sanity and all she holds dear.


My Thoughts:
Samantha (Sam) was always part of the Crazy Eights, a Mean Girls like popular clique. However, she hides a secret from most people. When Samantha was younger, she was diagnosed with Purely Obsessional Obsessive–compulsive disorder (OCD). Every day it is hard for her to stay in control. It's a struggle. Her so called best friends don't treat her like a friend. One day she meets Caroline near the lockers and Caroline introduces Samantha to the Poet's Corner, a secret underground poetry club. For Sam the Poet's Corner is a place where she can be herself and she can express her feelings through words. No longer does she have to keep her feelings bottled up inside and she does not have to pretend to be someone who she is not. The Poet's Corner is a place to be yourself and there is no judging of others. Sam had been distancing herself from the Crazy Eights in order to spend her free time or lunches at the Poet's Corner. Originally the guy in charge of the key to the Poet's Corner doesn't want Sam to join the group. Sam doesn't know why but realizes that they knew each other back in grade school. By becoming friends with the members of the Poet's Corner, Sam reinvents herself.
This
Every Last Word
blew me away. The novel is beautifully written and is relatable. I have not read a book with a character having OCD and never knew about the struggles one goes through to try to keep it a secret. Even the Crazy Eights don't know about Sam's condition because Sam crates a facade that she is "normal." Sam is strong. She gets knocked down but she always gets right back up. She is in control even when she thinks she is not. Even when Sam swims, she keeps her cool. Swimming helps her relieve some of the tension and helps her focus. The number three is important to Sam. Not only does she always swim in lane three and counts things in threes, three is symbolic. She even has three notebooks to write down her thoughts. Tamara Ireland Stone cleverly titled each chapter with three words. I even enjoyed reading how Sam counts in threes when she is thinking. My favorite number is three so reading about how three is symbolic makes me happy!
I am glad there is no instalove in this book. When Sam meets AJ, they don't even become friends right away. AJ didn't even want to be friends with Sam. Slowly they become friends and even something more. I love the slow burning romance. Stone includes adult figures in the novel who are shown in a positive light for a teen. Sam's parents and her therapist are super supportive of her and Sam appreciates everything they do to help her. The twist at the end caught me by surprise but it works so well with the novel. I highly recommend the
Every Last Word
for realistic contemporary fans and also if you enjoy reading coming-of-age novels.
There is currently a
pre-order giveaway
where the first 50 people will receive a personalized bookplate and a signed bookmark. You can also enter for a chance to win a
Every Last Word
prize pack.