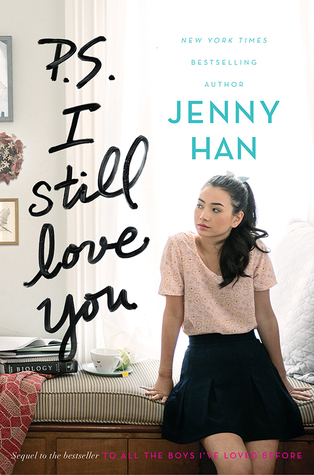 Title:
P.S. I Still Love You
Author:
Jenny Han
Publisher:
Simon & Schuster Books for Young Readers
Publication date:
May 26, 2015
Pages:
337
Source/format:
Purchased/Hardcover
Rating:
☆☆☆
☆
☆
Synopsis (from Goodreads.com):

Lara Jean didn't expect to really fall for Peter. She and Peter were just pretending. Except suddenly they weren't. Now Lara Jean is more confused than ever. When another boy from her past returns to her life, Lara Jean's feelings for him return too. Can a girl be in love with two boys at once?

In this charming and heartfelt sequel to the New York Times bestseller To All the Boys I've Loved Before, we see first love through the eyes of the unforgettable Lara Jean. Love is never easy, but maybe that's part of what makes it so amazing.

My Thoughts:
Jenny Han has done it again! I love
To All the Boys I've Loved Before
because it's perfect and I never thought the sequel would just as good.
P.S. I Still Love You
starts right where
To All the Boys I've Loved Before
left off right around the holiday season. I love how Lara Jean's family makes sure to incorporate Korean traditions into their daily lives despite their mother not being with them anyone. The sisterly bonding between the sisters is still there and each sister brings something special to the sisterhood. Despite their differences, they are always there for each other. I am definitely growing fonder of Kitty in this book. She is so sassy and so witty. I love how Kitty never gives up. I have never seen a kid so determined in everything she does. She is definitely one of my favorite characters in the book.
Lara Jean admitting her feelings to Peter is realistic when it comes to a first love. Their relationship is special despite the ex-girlfriend and the scandalous hot tub video. It's not cookie cutter perfect but it's real! I had some serious feels when reading
P.S. I Still Love You
. Everything about this book is cute and romantic. I was a little worried when John Ambrose McClaren entered the picture though. I am not a fan of love triangles so course I was a little bit upset with Lara Jean was torn between two guys. However, for some odd reason, this so called love triangle actually worked.
Of course I squeed when Lara Jean plans scrapbooking sessions with the elderly and when she makes homemade Valentine's Day cards. And Lara Jean baking up a storm! Yes, please! Snickerdoodles are my favorite type of cookie so I was ecstatic to see snickerdoodles making an appearance in the book. Also, the chai sugar cookies with the cinnamon eggnog icing sound divine! When Lara Jean talks about how baking is calming and how it stabilizes her, I totally agree. I like to bake because it's relaxing and it clears the mind. All you have to do is take ingredients, follow the instructions and you create something magical.
Han touches upon some difficult teenage situations such as cyberbullying. I know everyone should be careful about what they write and post on social media but what happens if someone posts information you don't want up online? What happens when people just laugh and don't do anything about it. In these days, cyberbullying is on the rise and Han explored the views of men and women about such exploitation. Why is every one rooting for Peter but slut shaming Lara Jean? It's not right.
Assassins is the big thing for my students during the summer and reading how Lara Jean and her friends play the game for old times sake is the icing on the cake. Imagine 46 teenagers and 13 staff members running around trying to eliminate each other with popsicle sticks. That's what I look forward to in the summer.
The novel is nostalgic and Han is making me fall in love with the book. The more I read, the more I love this endearing novel. This is the second book I've read where I teared up. Han does an incredible job when writing about first loves and she takes readers on an emotional journey. She has captivated my heart!
To All the Boys I've Loved Before
and
P.S. I Still Love You
are books that I relate with the most out of all books I've read in my life. That says something. Thank you Miss Jenny Han for writing both books! You are amazing and I feel like you get me.