This week has been a week full of MG and YA cover reveals. Not only are the covers pretty amazing but the covers definitely gives readers something to look forward to while they wait for these fantastic upcoming releases. Which cover reveal is your favorite and why?
On Monday
YA Books Central
released the cover art for
Ravenous
by MarcyKate Connolly. This
stunning
cover compliments companion novel,
Monstrous
, well. This beautiful cover art has the perfect color palette and a lovely hand drawn illustration.
Title:
Ravenous
Author:
MarcyKate Connolly
Publisher:
HarperCollins Children's Books
Publication date:
February 9, 2016
Synopsis (from Goodreads):

A witch has come to the city of Bryre. She travels in a hut that has chicken feet, and is ravenous for children. And once she gets what she desires, she never lets it go.

But when the witch captures Hans, Greta's little brother, Greta refuses to let her have him. The two strike up a bargain. Greta will retrieve something the witch desires in exchange for her brother's freedom.

To get the prize Greta must travel to Belladoma—a city where she was once held captive—which brings back terrible memories. With the help of a new friend, Dalen, a magical half-boy and half-horse, Greta embarks on the journey and tries to overcome both foes and her own weaknesses.

For fans of Monstrous and new readers alike comes the story of an epic quest and a heroine who will stop at nothing to save the one she loves most.
On Thursday
USA Today
revealed somewhat of the cover art for
Magnus Chase and the Gods of Asgard: The Sword of Summer
by Rick Riordan and illustrated by John Rocco. I
love the colors
John Rocco chose and I am very curious about the plot to the new series. I know very little of Norse mythology and I am to join Magnus Chase's journey. The gradient in the background is perfect!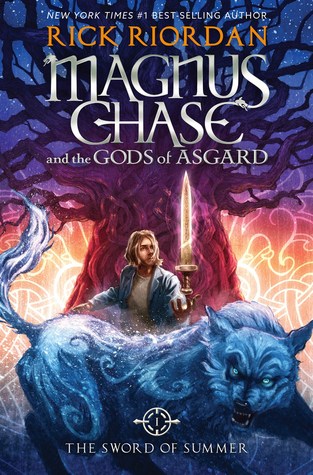 Title:
The Sword of Summer
Author:
Rick Riordan
Publisher:
Disney-Hyperion
Publication date:
October 6, 2015
Synopsis (from Goodreads):

Magnus Chase has always been a troubled kid. Since his mother's mysterious death, he's lived alone on the streets of Boston, surviving by his wits, keeping one step ahead of the police and the truant officers.

One day, he's tracked down by a man he's never met—a man his mother claimed was dangerous. The man tells him an impossible secret: Magnus is the son of a Norse god.

The Viking myths are true. The gods of Asgard are preparing for war. Trolls, giants and worse monsters are stirring for doomsday. To prevent Ragnarok, Magnus must search the Nine Worlds for a weapon that has been lost for thousands of years.

When an attack by fire giants forces him to choose between his own safety and the lives of hundreds of innocents, Magnus makes a fatal decision.

Sometimes, the only way to start a new life is to die . . .
So this cover reveal was from last Friday but it's still worth mentioning.
USA Today
revealed the cover for
Their Fractured Light
by Amie Kaufman and Meagan Spooner which is the third book in the Starbound trilogy. The cover is
gorgeous
! I have not read the first two books in the trilogy but I have heard good things about both novels.
Title:
Their Fractured Light
Authors:
Amie Kaufman and Meagan Spooner
Publisher:
Disney-Hyperion
Publication date:
December 1, 2015
Synopsis (from Goodreads):

A year ago, Flynn Cormac and Jubilee Chase made the now infamous Avon Broadcast, calling on the galaxy to witness for their planet, and protect them from destruction. Some say Flynn's a madman, others whisper about conspiracies. Nobody knows the truth. A year before that, Tarver Merendsen and Lilac LaRoux were rescued from a terrible shipwreck—now, they live a public life in front of the cameras, and a secret life away from the world's gaze.

Now, in the center of the universe on the planet of Corinth, all four are about to collide with two new players, who will bring the fight against LaRoux Industries to a head. Gideon Marchant is an eighteen-year-old computer hacker—a whiz kid and an urban warrior. He'll climb, abseil and worm his way past the best security measures to pull off onsite hacks that others don't dare touch.

Sofia Quinn has a killer smile, and by the time you're done noticing it, she's got you offering up your wallet, your car, and anything else she desires. She holds LaRoux Industries responsible for the mysterious death of her father and is out for revenge at any cost.

When a LaRoux Industries security breach interrupts Gideon and Sofia's separate attempts to infiltrate their headquarters, they're forced to work together to escape. Each of them has their own reason for wanting to take down LaRoux Industries, and neither trusts the other. But working together might be the best chance they have to expose the secrets LRI is so desperate to hide.
On Tuesday
Publishers Weekly
revealed the cover for
Pax
by Sara Pennypacker and illustrated by Jon Klassen. The color scheme of muted tones works well with the synopsis of the book and the book is meant to be a
timeless classic
.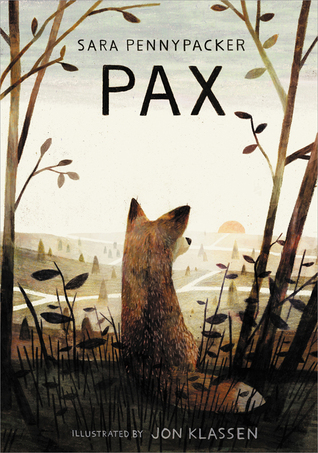 Title:
Pax
Author:
Pennypacker
Publisher:
Balzer and Bray
Publication date:
February 2, 2016
Synopsis (from Goodreads):

Pax was only a kit when his family was killed, and "his boy" Peter rescued him from abandonment and certain death. Now the war front approaches, and when Peter's father enlists, Peter has to move in with his grandpa. Far worse than being forced to leave home is the fact that Pax can't go. Peter listens to his stern father—as he usually does—and throws Pax's favorite toy soldier into the woods. When the fox runs to retrieve it, Peter and his dad get back in the car and leave him there—alone. But before Peter makes it through even one night under his grandfather's roof, regret and duty spur him to action; he packs for a trek to get his best friend back and sneaks into the night. This is the story of Peter, Pax, and their independent struggles to return to one another against all odds.

Told from the alternating viewpoints of Peter and Pax, this story truly showcases Sara's mastery of characterization and her fluent ability to pay off small yet beautiful details. The conflicts that Peter faces are mostly internal and center around the anger that has affected both him and his father in the wake of his mother's unexpected death. Peter can't shake his grandfather's claim that "the apple doesn't fall far from the tree" when he wants so badly to distinguish himself from his closed-off father. Pax's hardships, on the other hand, are more external; his domestication has left him an unskilled hunter and misled him as to the true nature of men. However, it is the beautifully-crafted characters that Peter and Pax encounter on their separate journeys who ultimately help the protagonists find what they are looking for, in addition to each other. These distinctive and multi-dimensional individuals leave a rare kind of impression on the reader while subtly infusing it with themes of loyalty, self-worth, denial, and truth.

PAX is ready to become a universal and timeless classic, like CHARLOTTE'S WEB, to be read and discussed by whole communities and generations to come.
On Monday
Penguin Teen
revealed the cover art to
The Forbidden Wish
by Jessica Khoury. It's
interesting
that pastels were chosen. I do like the cover art overall but I expected richer and bolder colors on the cover.
Title:
The Forbidden Wish
Author:
Jessica Khoury
Publisher:
Razorbill
Publication date:
February 23, 2016
Synopsis (from Goodreads):

When Aladdin discovers Zahra's jinni lamp, Zahra is thrust back into a world she hasn't seen in hundreds of years -- a world where magic is forbidden and Zahra's very existence is illegal. She must disguise herself to stay alive, using ancient shape-shifting magic, until her new master has selected his three wishes.

But when the King of the Jinn offers Zahra a chance to be free of her lamp forever, she seizes the opportunity—only to discover she is falling in love with Aladdin. When saving herself means betraying him, Zahra must decide once and for all: is winning her freedom worth losing her heart?

As time unravels and her enemies close in, Zahra finds herself suspended between danger and desire in this dazzling retelling of Arabian Nights from acclaimed author Jessica Khoury.
On Wednesday
Barnes & Noble
revealed the cover to
What We Left Behind
by Robin Talley. The cover definitely
screams contemporary
and I am looking forward to reading this novel.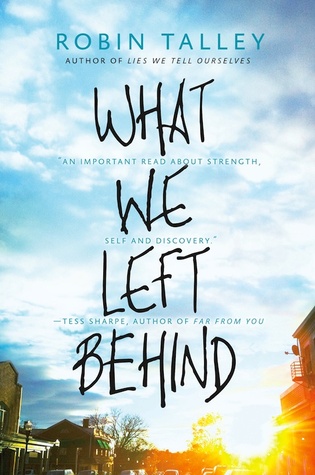 Title:
What We Left Behind
Author:
Robin Talley
Publisher:
Harlequin Teen
Publication date:
October 27, 2015
Synopsis (from Goodreads):

What We Left Behind follows a teen couple—Gretchen, who identifies as a lesbian, and Toni, who identifies as genderqueer—as they struggle to stay together during their first year in college, despite the growing rift caused by distance and Toni's shifting gender identity.