Top Ten Tuesday is a weekly meme hosted by
The Broke and the Bookish
. This week's Top Ten Tuesday is a freebie. I decide to showcase top ten books I picked up at ALA Midwinter. The following books are in no particular order. Most of the following are front list titles and I included synopsis for all ten along with the publication date and publisher.
1.
Summer Days and Summer Nights: Twelve Love Stories edited by Stephanie Perkins
- June 14, 2016 published by Macmillan
I was surprised this was even available at ALA Midwinter and I am fortunate that I will be able to read it before the pub date.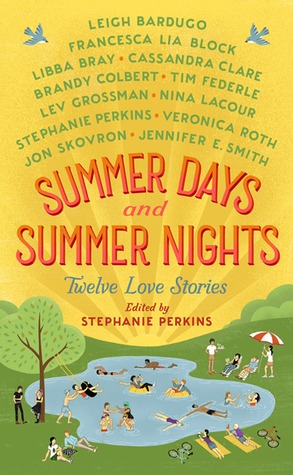 Maybe it's the long, lazy days, or maybe it's the heat making everyone a little bit crazy. Whatever the reason, summer is the perfect time for love to bloom. Summer Days & Summer Nights: Twelve Love Stories, written by twelve bestselling young adult writers and edited by the international bestselling author Stephanie Perkins, will have you dreaming of sunset strolls by the lake. So set out your beach chair and grab your sunglasses. You have twelve reasons this summer to soak up the sun and fall in love.

Featuring stories by Leigh Bardugo, Francesca Lia Block, Libba Bray, Cassandra Clare, Brandy Colbert, Tim Federle, Lev Grossman, Nina LaCour, Stephanie Perkins, Veronica Roth, Jon Skovron, and Jennifer E. Smith.
2.
The Forbidden Wish by Jessica Khoury
- February 23, 2016 published by Penguin
I am super excited about this Aladdin retelling. Aladdin is my favorite Disney movie and I can't wait to immerse myself into this wonderful and magical world.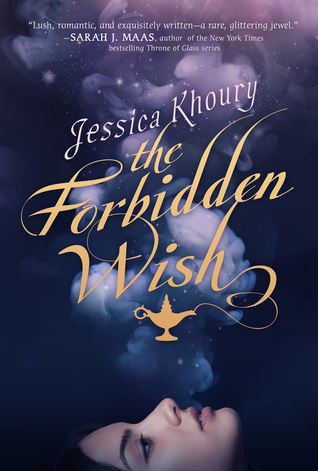 She is the most powerful Jinni of all. He is a boy from the streets. Their love will shake the world...

When Aladdin discovers Zahra's jinni lamp, Zahra is thrust back into a world she hasn't seen in hundreds of years -- a world where magic is forbidden and Zahra's very existence is illegal. She must disguise herself to stay alive, using ancient shape-shifting magic, until her new master has selected his three wishes.

But when the King of the Jinn offers Zahra a chance to be free of her lamp forever, she seizes the opportunity—only to discover she is falling in love with Aladdin. When saving herself means betraying him, Zahra must decide once and for all: is winning her freedom worth losing her heart?

As time unravels and her enemies close in, Zahra finds herself suspended between danger and desire in this dazzling retelling of Aladdin from acclaimed author Jessica Khoury.
7.
Wishing Day by Lauren Myracle - May 3, 2016 published by HarperCollins
This Middle Grade novel seems the perfect combination of whimsical and cuteness.
On the third night of the third month after a girl's thirteenth birthday, every girl in the town of Willow Hill makes three wishes.

The first wish is an impossible wish.
The second is a wish she can make come true herself.
And the third is the deepest wish of her secret heart.

Natasha is the oldest child in a family steeped in magic, though she's not sure she believes in it. She's full to bursting with wishes, however. She misses her mother, who disappeared nearly eight long years ago. She has a crush on one of the cutest boys in her class, and she thinks maybe it would be nice if her very first kiss came from him. And amid the chaos of a house full of sisters, aunts, and a father lost in grief, she aches to simply be...noticed.

So Natasha goes to the willow tree at the top of the hill on her Wishing Day, and she makes three wishes. What unfolds is beyond anything she could have imagined.
8.
Outrun the Moon by Stacey Lee - May 24, 2016 published by Penguin
This novel has been on my TBR list since I heard the rights for it. Stacey's debut novel,
Under a Painted Sky
, is fantastic and I couldn't wait to read more by her.
From the author of the critically acclaimed Under a Painted Sky, an unforgettable story of determination set against a backdrop of devastating tragedy. Perfect for fans of Code Name Verity.

San Francisco, 1906: Fifteen-year-old Mercy Wong is determined to break from the poverty in Chinatown, and an education at St. Clare's School for Girls is her best hope. Although St. Clare's is off-limits to all but the wealthiest white girls, Mercy gains admittance through a mix of cunning and a little bribery, only to discover that getting in was the easiest part. Not to be undone by a bunch of spoiled heiresses, Mercy stands strong—until disaster strikes.

On April 18, an historic earthquake rocks San Francisco, destroying Mercy's home and school. With martial law in effect, she is forced to wait with her classmates for their families in a temporary park encampment. Mercy can't sit by while they wait for the Army to bring help. Fires might rage, and the city may be in shambles, yet Mercy still has the 'bossy' cheeks that mark her as someone who gets things done. But what can one teenaged girl do to heal so many suffering in her broken city?

Breakout author Stacey Lee masterfully crafts another remarkable novel set against a unique historical backdrop. Strong-willed Mercy Wong leads a cast of diverse characters in this extraordinary tale of survival.
9.
Ruined by Amy Tintera - May 3, 2016 published by HarperCollins
I enjoyed reading Amy's dystopian,
Reboot,
and I cannot wait to read her take on fantasy. And how gorgeous is this cover? It's so simple yet sophisticated.
Emelina Flores has nothing. Her home in Ruina has been ravaged by war. She lacks the powers of her fellow Ruined. Worst of all, she witnessed her parents' brutal murders and watched helplessly as her sister, Olivia, was kidnapped.

But because Em has nothing, she has nothing to lose. Driven by a blind desire for revenge, Em sets off on a dangerous journey to the enemy kingdom of Lera. Somewhere within Lera's borders, Em hopes to find Olivia. But in order to find her, Em must infiltrate the royal family.

In a brilliant, elaborate plan of deception and murder, Em marries Prince Casimir, next in line to take Lera's throne. If anyone in Lera discovers Em is not Casimir's true betrothed, Em will be executed on the spot. But it's the only way to salvage Em's kingdom and what is left of her family.

Em is determined to succeed, but the closer she gets to the prince, the more she questions her mission. Em's rage-filled heart begins to soften. But with her life—and her family—on the line, love could be Em's deadliest mistake.
10.
The Weight of Feathers by Anna-Marie McLemore - September 15, 2015 by Macmillan
I heard great things about this magical realism novel. What drew me to this novel is the fact that it is very Romeo and Juliet like. I cannot wait to start reading this.
The Palomas and the Corbeaus have long been rivals and enemies, locked in an escalating feud for more than a generation. Both families make their living as traveling performers in competing shows—the Palomas swimming in mermaid exhibitions, the Corbeaus, former tightrope walkers, performing in the tallest trees they can find.

Lace Paloma may be new to her family's show, but she knows as well as anyone that the Corbeaus are pure magia negra, black magic from the devil himself. Simply touching one could mean death, and she's been taught since birth to keep away. But when disaster strikes the small town where both families are performing, it's a Corbeau boy, Cluck, who saves Lace's life. And his touch immerses her in the world of the Corbeaus, where falling for him could turn his own family against him, and one misstep can be just as dangerous on the ground as it is in the trees.

Beautifully written, and richly imaginative, The Weight of Feathers is an utterly captivating young adult novel by a talented new voice.