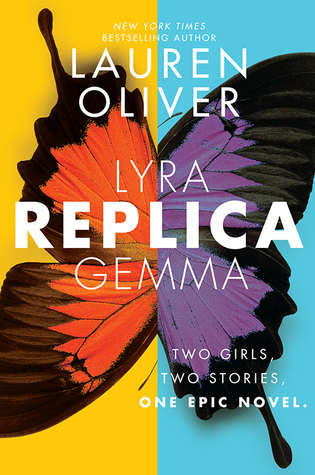 Author:
Lauren Oliver
Publisher:
HarperCollins
Publication date:
October 4, 2016
Pages:
544
Source/format:
ARC borrowed from
Rachel
Rating:
☆☆☆
☆
Synopsis (from goodreads.com):

Gemma has been in and out of hospitals since she was born. 'A sickly child', her lonely life to date has revolved around her home, school and one best friend, Alice. But when she discovers her father's connection to the top secret Haven research facility, currently hitting the headlines and under siege by religious fanatics, Gemma decides to leave the sanctuary she's always known to find the institute and determine what is going on there and why her father's name seems inextricably linked to it.

Amidst the frenzy outside the institute's walls, Lyra - or number 24 as she is known as at Haven - and a fellow experimental subject known only as 72, manage to escape. Encountering a world they never knew existed outside the walls of their secluded upbringing , they meet Gemma and, as they try to understand Haven's purpose together, they uncover some earth-shattering secrets that will change the lives of both girls forever...
M Y T H O U G H T S
There are three ways to read
Replica
. Readers can start with Lyra's story first and then read Gemma's story last. Or the reader can read Gemma's story first and Lyra's story last. Or readers can read each girls' story alternating chapters. I ended up doing the latter. I started with Lyra and alternated with Gemma every two chapters.
Two girls are somehow intertwined and both stories take place at the same time. It's an interesting take on a book where the reader can read two stories that are interconnected with one another. The dual perspective keeps the pace of the plot engaging and the structure of the books creates a fascinating reading experience.
Lyra is a replica, also known as a biologically engineered human model. She lives in a research institute on an island off of Florida with other replicas being watched by doctors, nurses and scientists.
Gemma lives with her family in North Carolina as a normal human but uncovers secrets her parents have been hiding from her. Gemma is able to get a ride with her friend Pete and ends up befriending Jake Witz who knows a bit about the secrets of the Haven institute. Gemma wants to know how her father is connected with Haven.
Lauren Oliver's writing is superb. She makes you think of who you are. Replica is about identity and individuality. Oliver shows how conditioning can shape the person they are who they are today. Part of someone's identity comes from their genetics but a lot of it has to do with their upbringings. Oliver also taps into trust. Who can you trust? Oliver does a fantastic job with the character development and plotting out every interaction. Each person in the book is somewhat important to this puzzle of mysteries.
Erin Fitzsimmons did a wonderful job with Replica's dust jacket. The mirror image with the butterfly and the two sides of the book is perfect to convey two perspectives of the same story.
Replica is a stunning and insightful sci-fi novel. If you're interested in books like the
Vault of Dreamers
by
Caragh M. O'Brien
, definitely check out
Replica
. I am super excited to read the second book in the series called
Simulation
.