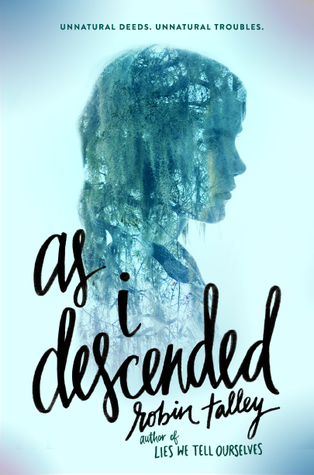 Title:
As I Descended
Author:
Robin Talley
Publisher:
HarperTeen
Publication date:
September 6, 2016
Pages:
384
Source/format:
e-ARC from Edelweiss
Rating:
☆☆☆
☆
Synopsis (from goodreads.com):

Maria Lyon and Lily Boiten are their school's ultimate power couple—even if no one knows it but them.

Only one thing stands between them and their perfect future: campus superstar Delilah Dufrey.

Golden child Delilah is a legend at the exclusive Acheron Academy, and the presumptive winner of the distinguished Cawdor Kingsley Prize. She runs the school, and if she chose, she could blow up Maria and Lily's whole world with a pointed look, or a carefully placed word.

But what Delilah doesn't know is that Lily and Maria are willing to do anything—absolutely anything—to make their dreams come true. And the first step is unseating Delilah for the Kingsley Prize. The full scholarship, awarded to Maria, will lock in her attendance at Stanford―and four more years in a shared dorm room with Lily.

Maria and Lily will stop at nothing to ensure their victory—including harnessing the dark power long rumored to be present on the former plantation that houses their school.

But when feuds turn to fatalities, and madness begins to blur the distinction between what's real and what is imagined, the girls must decide where they draw the line.

From acclaimed author Robin Talley comes a Shakespeare-inspired story of revenge and redemption, where fair is foul, and foul is fair
M Y T H O U G H T S
As I Descended
is a modern day loose retelling of Shakespeare's play,
Macbeth
. I was super excited to read this novel and it doesn't disappoint. Acheron Academy, located in Virginia, is an elite boarding school where the Cawdor Kingsley Prize Scholarship is what everyone has their eyes on. Maria has a good circle of friends which include Brandon, Mateo and Lily. Power couple Maria and Lily will do anything to get what they want and unfortunately Delilah is in the way.
As I Descended
opens up with an intriguing scene where Maria and her friends are trying to use an Ouija board at their boarding house school. However, something goes wrong. Maria is haunted by a premonition by the spirit she spoke to through the Ouija Board. Throughout the whole novel, Maria and Lily try to usurp Delilah in order to obtain the Cawdor Kingsley Prize.
Robin Talley does an excellent job incorporating paranormal horror within this
Macbeth
retelling. The eerieness of the haunted boarding school built on a old Southern plantation is the perfect setting for the story. Talley's modern day version of
Macbeth
will capture the attention of those who adore Shakespeare as well as those who normally don't enjoy reading Shakespeare. She is able to suck you into the plot from page one.
Although, I enjoyed the retelling in terms of plot and pacing, the character development seemed weaker than in Talley's
Lies We Tell Ourselves
. This may be in part that are many more key players in
As I Descended
. I wish the characters were fleshed out more since I only gravitated toward Mateo. What I love is how Talley included all types of diversity within the novel including ethnicity, disability and gender and sexuality.
I found it uncanny how Brandon has to write a paper on Julius Caesar in the novel and how Romeo is addressed in the novel. It's very fitting how two Shakespeare plays are mentioned in a Shakespeare play retelling.
The third person narration in
As I Descended
alternates between characters every so often which gives the reader the inside of what is going on and how each character thinks and reacts to certain things. This fast paced novel is perfect for those who are seeking an entertaining Macbeth paranormal thriller.