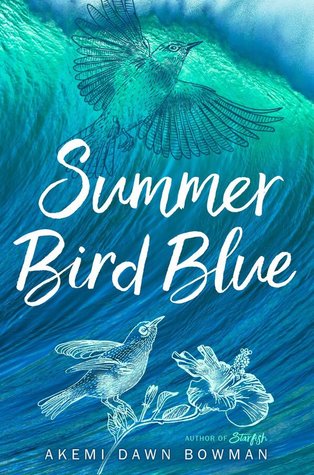 Title:
Summer Bird Blue
Author:
Akemi Dawn Bowman
Publisher:
Simon Schuster
Publication date:
September 11, 2018
Pages:
368
Source/format:
e-ARC//Publisher
Rating:
☆☆☆☆
1/2
Synopsis (from goodreads.com):

Rumi Seto spends a lot of time worrying she doesn't have the answers to everything. What to eat, where to go, whom to love. But there is one thing she is absolutely sure of—she wants to spend the rest of her life writing music with her younger sister, Lea.

Then Lea dies in a car accident, and her mother sends her away to live with her aunt in Hawaii while she deals with her own grief. Now thousands of miles from home, Rumi struggles to navigate the loss of her sister, being abandoned by her mother, and the absence of music in her life. With the help of the "boys next door"—a teenage surfer named Kai, who smiles too much and doesn't take anything seriously, and an eighty-year-old named George Watanabe, who succumbed to his own grief years ago—Rumi attempts to find her way back to her music, to write the song she and Lea never had the chance to finish.
M Y T H O U G H T S

"Music is what makes up the single soul we share. I don't think I'll ever find another person in the entire world who understands me the way Lea does. We're the only two people in the universe who speak our language."

The first chapter introduces readers to Rumi Seto, Lea and their mother before the accident. Rumi and Lea are inseparable and they knew each other so well. They understood each other when others didn't. Lea's death impacted the family. Rumi felt alone and her mother started to abandon her even though her Aunt Ani keeps reminding Rumi's mother that she needs to remember that she still has another daughter. Because Rumi's mother was so distant, Rumi ended up living with her aunt in Hawaii.

Rumi once promised Lea three wishes to make up one Christmas. Two wishes were fulfilled and one was not yet. Rumi knew that she had to finish "Summer Bird Blue." Both sisters loved music and Rumi feels like she needs to finish the song in order to fulfill the wish for Lea. They were each other's best friend. Aunty Ani hopes that music will help Rumi heal but Rumi is having a hard time moving on.

Kai Yamada and Gareth befriend Rumi and when Rumi moves to Hawaii. Kai is interested in Rumi but Rumi turns down his advances. After all, she is all temporary living in Hawaii so her mother can mourn. However, Rumi does give in to at least become friends with Kai. Rumi also befriends Hannah and Jerrod. While Rumi struggles to move on after her sister passes, Kai is struggling to figure out what he wants to do with his life. His father wants Kai to join the navy but Kai wants to go to college. Rumi doesn't pay attention to Kai until he sings. She is actually entranced by his singing probably because music is so important in her life. Lately she has been distancing herself from music because it reminds her too much of Lea.

After reading Starfish, I found Akemi Dawn Bowman's writing honest and real. She writes about some tough topics that teens go through and she paints a journey of growth of how a character can overcome their fears and live their lives to the fullest. Summer Bird Blue tackles grief of the loss of Rumi's sister, Lea, and the feeling of abandonment of parents who doesn't say goodbye. I feel a lot of my students can relate to this book with a loss of an immediate family member or feeling like they have a disconnect with their parents.

Rumi's mother sends Rumi to live with her aunt in Hawaii away from Rumi's home in Washington. When Rumi was younger, her father left the family a little bit after Lea was born, never to return back to see his family. Rumi finds solace spending time with her next door neighbor, Mr. Wantanabe. He keeps Rumi balanced between her grieving for Lea and her trying to fit in with her peers. I see him as a father figure that Rumi never had. She asks him for advice and pours her soul when playing his piano and ukulele. They also relate to losing someone in their life that they are close to. Rumi lost her sister and Mr. Wantanabe lost his wife.

Summer Bird Blue is split into three sections: Summer, Bird and Blue which represent different stages in Rumi's mourning. Throughout the book, there are memory flashbacks with Lea makes an appearance during times when Rumi is trying live her life and she is constantly reminded of Lea based on what she sees, does, hear, etc.

By the end of the novel, Rumi learns how to cope with Lea's death and she even mentions how she misses her mother. Rumi learns to open her heart to live her life without worrying that she will be heartbroken. Kai is Rumi's rock and he is helping her heal. He stands by her side when she needs him the most.

Bowman discusses mental health within the novel in a way where asking for help isn't shameful. Each person copes differently when they lose someone dear to them. Some might turn to music, some to food and some might check themselves into a clinic. As Aunty Ani mentions, "Grief is a monster--not everyone gets out alive, and those who do might only survive in pieces. But it's a monster that can be conquered, with time."

Rumi needs friends and that's what she finds when she moves to Hawaii. Even though she is not romantically interested in Kai, she learns more about herself and identifies as asexual. This is my first novel that I read that has an asexual character and I hope it's not my last. Also, this novel has a highly diverse cast of characters.

Summer Bird Blue is a compelling yet an emotionally well written novel about grief, loss, forgiveness, acceptance, compassion and finding oneself. Summer Bird Blue is just as beautiful as Bowman's debut novel, Starfish. I highly recommend this book.