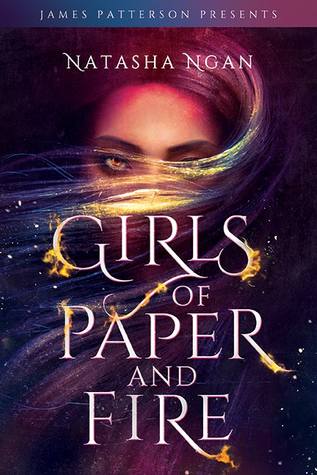 Title:
Girls of Paper and Fire
Author:
Natasha Ngan
Publisher:
Jimmy Paterson Books
Publication date:
November 6, 2018
Pages:
336
Source/format:
ARC//
Emma from Miss Print
Rating:
☆☆☆☆
☆
Synopsis (from goodreads.com):

Each year, eight beautiful girls are chosen as Paper Girls to serve the king. It's the highest honor they could hope for...and the most cruel.

But this year, there's a ninth girl. And instead of paper, she's made of fire.

In this lush fantasy, Lei is a member of the Paper caste, the lowest and most oppressed class in Ikhara. She lives in a remote village with her father, where the decade-old trauma of watching her mother snatched by royal guards still haunts her. Now, the guards are back, and this time it's Lei they're after--the girl whose golden eyes have piqued the king's interest.

Over weeks of training in the opulent but stifling palace, Lei and eight other girls learn the skills and charm that befit being a king's consort. But Lei isn't content to watch her fate consume her. Instead, she does the unthinkable--she falls in love. Her forbidden romance becomes enmeshed with an explosive plot that threatens the very foundation of Ikhara, and Lei, still the wide-eyed country girl at heart, must decide just how far she's willing to go for justice and revenge.

TW: violence and sexual abuse.
M Y T H O U G H T S
Chosen to be the ninth Paper Girl to serve the Demon Bull King of Ikhara, Lei wants to keep Baba and Tien safe. While questioning her own identity, Lei learns more about what what happened to her mother and she develops feelings for someone at the Court. However, she must be careful of her actions since it will lead herself to be killed and/or her family will be endangered.
Natasha Ngan weaves Asian elements within an engaging fantasy. Ngan's world building is impressive. The map provided in the front of the novel is very helpful to picture the many areas of The Hidden Palace. Humans and demons make up Ikhara with the demon Moon caste at the top, the hybrid Steel caste in the middle and the human Paper caste at the bottom. Ngan was inspired to create these casts due to her mixed ethnicity. She wanted to write a novel that incorporated different cultures.
The forbidden love between Lei and another female is a secret that only the couple and the reader knows about. If their relationship is known to others at the palace, their lives will be at stake since Paper Girls are concubines who only to serve the Demon King. Friendships are made at the palace and each girl has her own unique personality and is set apart from each other. Usually with so many characters in a book, it's very hard to keep up with who is who but Ngan mastered incorporating an abundance of characters but making sure each person is memorable.
Lei's fiery and confident personality is engulfing. With her golden eyes, she is a ravishing beautiful young lady as she is smart. She advocates for what is right. Lei grows from when she steps foot into the palace to the end of the book. She tries to appease others at first but soon realizes that she cannot deny that fact things are not okay. Lei gains the courage to stand up to the Demon King and to say no to his advances. Although she is heavily punished for her actions, she inspires others to take a stand to say no to things they are being forced to do. Instead of normalizing the dominating and sexual advances, Lei single action shows how people can be strong and to say no. There is much power in saying no.
Girls of Paper and Fire
is a mesmerizing novel that will sweep you off your feet. The novel is the first in a series. Warning: there are instances of oppressive violence, death, and sexual abuse that may be triggers for some readers.