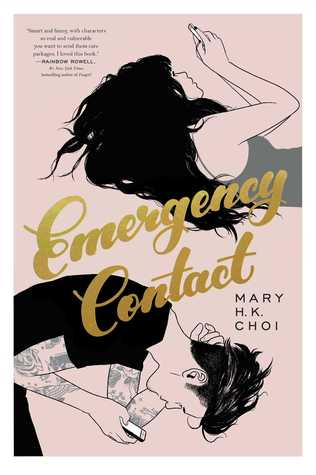 Title:
Emergency Contract
Author:
Mary H.K. Choi
Publisher:
Simon & Schuster Books for Young Readers
Publication date:
March 27, 2018
Pages:
394
Source/format:
Hardcover // Library
Rating:
☆☆☆☆
1/2
Synopsis (from goodreads.com):

For Penny Lee high school was a total nonevent. Her friends were okay, her grades were fine, and while she somehow managed to land a boyfriend, he doesn't actually know anything about her. When Penny heads to college in Austin, Texas, to learn how to become a writer, it's seventy-nine miles and a zillion light years away from everything she can't wait to leave behind.

Sam's stuck. Literally, figuratively, emotionally, financially. He works at a café and sleeps there too, on a mattress on the floor of an empty storage room upstairs. He knows that this is the god-awful chapter of his life that will serve as inspiration for when he's a famous movie director but right this second the seventeen bucks in his checking account and his dying laptop are really testing him.

When Sam and Penny cross paths it's less meet-cute and more a collision of unbearable awkwardness. Still, they swap numbers and stay in touch—via text—and soon become digitally inseparable, sharing their deepest anxieties and secret dreams without the humiliating weirdness of having to see each other.
M Y T H O U G H T S
Penny Lee just finished her senior year in high school and is off to college in Austin, TX to learn to become a writer. Her boyfriend Mark is just average and they don't know much about each other. Penny meets Sam Becker one day through her roommate at House, a coffee shop. However, there friendship didn't start until Penny ran into Sam on the side of the road when he was having a panic attack. After that incident, they become each other's emergency contacts.
Mary H.K. Choi writes a novel where the readers want to know more about the characters. Each character has their own unique history. I love how Penny is pensive and always give herself choices to act upon when she makes a decision. Choi even lists out the choices/reactions when Penny is trying to figure out what she wants to do. Her internal monologues are often comedic and are relatable. Although Penny's personality may be off-putting for some, she does have some difficulty making friends and being comfortable around people. Sam, on the other hand, is a social butterfly but harbors many demons that many don't know about. Penny is able to help pull him out of the darkness.
The formatting of the book include Penny's and Sam's POVs alternating every chapter. When Penny and Sam become emergency contacts, their text message between each other are formatted on the pages as if you are reading an electronic message back and forth. These flawed individuals end up relying on each other. Penny and Sam learn to trust one another. They become each other's life line and trusted advisor for difficult life decisions.
Choi delves into different socioeconomic and tough topics like addiction, unconventional parental upbringings, undocumentation, rape, etc. Sam is living on his own barely scrapping by to provide for himself. He doesn't have any close family to help him. Sam grew up with his mother in a trailer and his mother is an alcoholic who needed Sam to help get by each day. Sam is an inspiring documentary filmmaker who would love to go to college but due to his financial situation, he works at House as a manager and the owner lets him live there. Things get complicated when his ex-girlfriend claims she is pregnant.
Penny starts college at the University of Texas - Austin but her mother is more concerned about appearances and her mother dresses way younger than she is. Penny is unsure where she stands with her Mark since she doesn't really want to be with him because they don't truly know each other. I love how the romance between Penny and Sam starts off slow. Penny breaks it off with Mark because the relationship wasn't going anywhere and she was starting to have feelings for Sam. Penny finds that taking criticisms for her manuscripts is hard and she is learning how to hone her writing in order to please her professor but also to still stay true to herself. Penny is Korean-American and she discusses the many microaggressions she has to deal with everyday. I can definitely relate to the microagressions that Penny has to go through being an Asian American female.
Emergency Contact
is a cute contemporary novel with just enough romance and a dash of comedy. If you love
Fangirl
by Rainbow Rowell and/or
Tell Me Three Things
by Julie Buxbaum
,
you will love this book!